Decoding The Investment Map
Emerging-market assets may be enjoying a surprisingly strong start to the year, but Africa's most populous country and biggest oil producer, Nigeria, may just be missing out on the rally. With investors fretting about tense elections just weeks away, low oil prices and pressure on the Naira, the economic outlook is gloomy and uncertain in the short term.
But, it's not all bad news for investors. Opportunities in the African tech and startup ecosystem seem to be providing a strong buffer against some of the shocks.
Take Andela, for instance. The Nigeria-based (and Africa-focused) startup, which trains young people across the continent to become software developers, has just raised $100 million in a round led by former US Vice-President Al Gore's Generation Investment Management. This is one of the largest ever capital raises by a tech company located in Africa.
In total, Africa startups have raised US$725.6 million in funding in 2018 – a massive 300% leap compared to the previous year's figure of US$ 167.7 million, signalling increasing investor confidence in startup businesses across the continent's major hubs.
This article gives an insight into the snowballing pool of early stage companies in Africa that are showing such strong growth prospects that attracting bigger ticket rounds has become more a mainstay than an exception.
The year 2018 will go down as an exceptional period in the history of the African startup ecosystem. According to the WeeTracker's Venture Investments Report 2018, USD 725.6 million was invested across 458 deals. Nigeria outperformed led the charge with a total of 136 deals, followed closely by South Africa (107 deals) and Kenya (73 deals).
In terms of sectorial investments, fintech startups attracted the most funding in Africa for 2018. The fintech category drew in 40% of the total funding raised (across 93 deals), and also accounted for five of the top 10 largest deals.
Nigeria: Betting on Tech Talent
As with previous years, Nigeria, South Africa and Kenya – the continent's most advanced and valuable tech ecosystems – continue to dominate as the continent's preferred investment destinations. Startups in Africa continue to receive a steady stream of funding in excess of $5 million – a significant development, given that attempts in previous years to secure crucial Series A growth stage investment often fell through.
In 2018, Nigeria-based startups held their own to attract major funding:
 

COMPANY

 

 DETAILS

 INVESTMENT

 

Andela

Software development firm. Founded in 2014 (by Iyinoluwa Aboyeji, Brice Nkengsa, Carnevale, Christina Sass, Jeremy Johnson and Nadayar Enegesi) to train local coders for contract work with U.S. employers

$100 million led by Generation Investment Management private equity fund.

Wakanow

Online travel company. Founded in 2008 by Obinna Ekezie.

$40 million led by Carlyle Group

 

Paga

Payments and mobile money business. Founded in 2009 by Tayo Oviosu and Jay Alabraba, Paga says it has over 9 million customers and 17,000 agents across Nigeria.

$10 million, Series B2 – led by Global Innovation Partners, with participation from Unreasonable Capital as well as existing investors; Goodwell Investments, Adlevo Capital and Omidyar Network

 

Flutterwave

Payment services for global merchants, and pan-African banks. Founded in 2014, the fintech startup's co-founder (also CEO),  Iyinoluwa Aboyeji – resigned from his position in 2018.

 

$10 million, Series A (Extended).

Paystack

Payment services. Founded in 2015

by Ezra Olubi, Shola Akinlade

$8 million, Series A from China's Tencent, Stripe, VISA, and Y Combinator.

SureRemit

Blockchain startup. Founded in 2014 by Adeoye Ojo primarily as an ecosystem for global non-cash remittances.

 

$7million, ICO

Lidya

Fintech platform. Launched in 2016 by Tunde Kehinde and Ercin Eksinto to ease access to finance for SMEs across Africa.

$6.9 million, Series A from Omidyar Network

 

Kobo360

Digital logistics platform. Founded in 2016 by  Obi Ozor with a mission to aggregate end-to-end haulage operations

$6 million , led by the World Bank, with participation from others including Silicon Valley investors WTI, YCombinator and African institutional investors Cardinal Stone Partners, Chandaria Capital and TLcom

 

Tizeti

Internet Service Provider. Founded in 2012 by Ifeanyi Okonkwo and Kendall Ananyi to build and operates solar-powered towers that provide users with unlimited high-speed broadband internet access.

 

$3 million led by 4DX Ventures.

 

Trade Depot

Mobile B2B trade platform. Co-founded in 2015 by Onyekachi Izukanne to connect retailers in Emerging Markets directly to Consumer Goods brands.

 

$3 million from Partech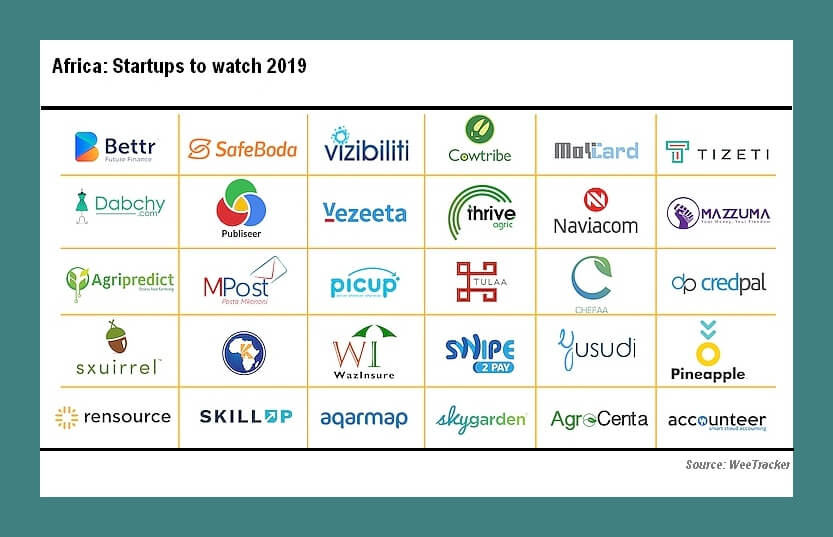 It is almost impossible to miss the flow of the many funding rounds recently raised by startups in Africa. Says Yele Bademosi, managing partner at Microtraction, the early stage investment fund that was also the most active investor in 2018: '[A total of] 25 Africa-focused funds – a mix of institutional investors, venture capital, grants and prizes – launched last year with a total capital pool of just over $1 billion'.
As startups and technology ventures keep pushing the outer limits of growth for the continent, private equity investment is certainly worth a second look for 2019.
*Disclosures: This material does not provide individually tailored investment advice. It has been prepared without regard to the individual financial circumstances and objectives of persons who receive it. ARM Investments (ARMI) advises investors to independently evaluate particular investments and strategies, and seek the advice of a financial advisor or wealth manager. The appropriateness of a particular investment or strategy will depend on an investor's individual circumstances and objectives.
*For financial or wealth management advice, please contact ARM Investment Managers: