A yacht is the ultimate in luxury, and manufacturers are churning out perfect vessels that capture its status:
• September 2019: Lexus unveiled its first-ever luxury yacht (the LY650) , a sleek 65-foot watercraft that costs about $3.6 million;
• January 2020: The incredible SolarImpact yacht launched at the Dusseldorf Boat Show, and is hailed as a vessel that could sail around the world using only the sun – the ocean yacht with all of the luxury, none of the diesel;
• January 2020: Then there's the stunning 200-foot super yacht concept unveiled by London-based design studio Philippe Briand. Tagged the SY200, the vessel will be powered entirely by wind.
What do you value? Across the following pages, our profile of the world's biggest superyachts and their owners – as well as an overview of award-winning, smaller-size yachts of 2020 – show how, for the right person with the right perspective, a yacht can be a unique investment that provides both lasting value (including status) and enormous lifestyle improvements.
TOP 3 LARGEST SUPERYACHTS
There can be no better way travel around the globe than aboard a luxury yacht. Here are some of the largest "portable private islands" in the world, each with its own history and trivia:
#1: Azzam (180.61 metres)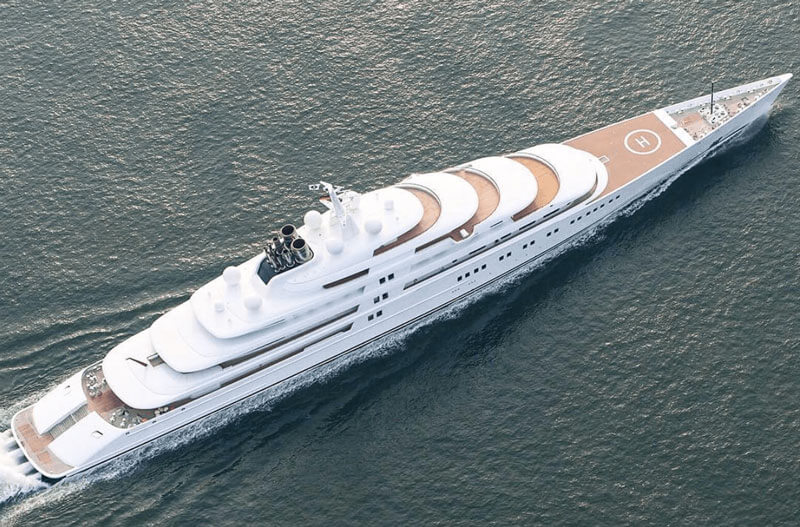 Built by German shipyard Lürssen Yachts at a cost of US$600 million, Azzam is the largest private superyacht in the world. Lürssen have crafted over half of the top 10 largest yachts in the world. Her sleek exterior was styled by Nauta Yacht Design, while her relaxed French Empire-inspired interior is the handiwork of Christophe Leoni. Boats & landing craft carried on this vessel include 1 mini-submarine, while cruising speed attained can be up to 32 knots (59 km/h; 37 mph).
Owner: Sheikh Khalifa bin Zayed Al Nahyan
#2: Eclipse (162.5 metres)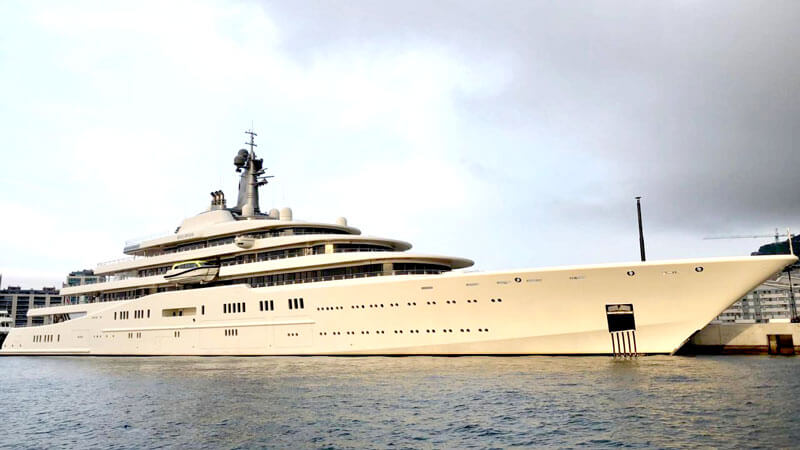 Once the world's largest private yacht, the Eclipse houses a 16-metre-long swimming pool (the longest on any yacht), and an owner's deck measuring about 56 metres. Amazingly, she also has room for three helicopters – one on each of her two helipads and another in a storage hangar below deck. The breath-taking interior of this mega yacht was designed by London-based Terence Disdale Design, who has been appointed more than 100 times to design yachts.
Owner: Roman Abramovich.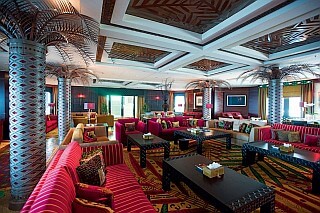 Built at a cost of US$400 million – and designed by Andrew Winch – royal yacht Dubai offers some of the most luxurious accommodation imaginable to include her owner's suite, five VIP suites and six guest suites – each of which opens up to a personal balcony. Some of this mega yacht's outstanding features include its 21.3m-wide atrium, an on-board submarine, a swimming pool, barbecue area, cinema and its own discothèque. She also has a landing platform that is structured to fit a Blackhawk helicopter.
Owner: Sheik Mohammed bin Rashid al-Maktoum of Dubai
TOP 3 YACHTS: EUROPEAN AWARDS 2020
The European Yacht of the Year 2020 Awards include 12 judges from across Europe, each leading voices on boat testing in their respective countries. Each judge sails every boat before the competition concludes. The result is the largest, most influential and widely respected boatbuilding prize worldwide. The following five European Yacht of the Year 2020 winners were announced on the opening evening of the Dusseldorf Boatshow, on 18 January, 2020: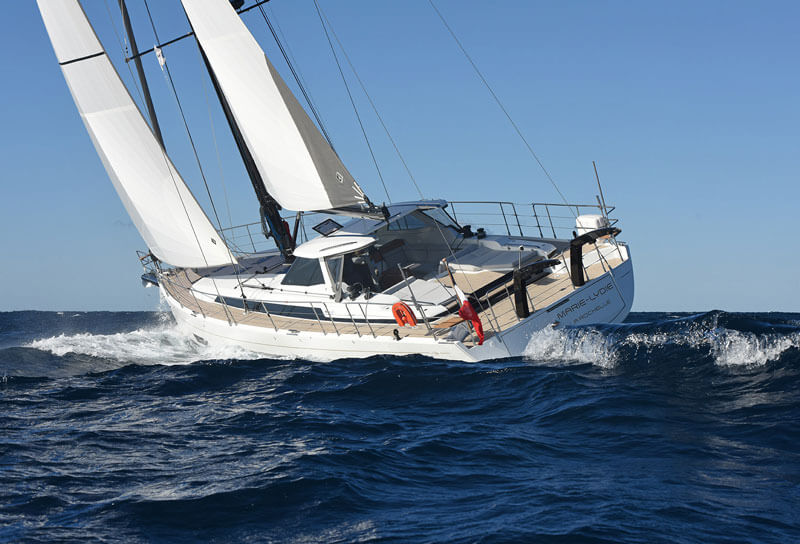 LUXURY CRUISER
Nominees: Amel 60, Grand Soleil 42LC, Oyster 565
Winner: Amel 60
Another beautifully built and finished boat by Amel, this is a similar, refined and extended version of the award-winning Amel 50. It features tried and tested traditional Amel concepts including the central enclosed cockpit (which might not suit an active helmsman¬), huge watertight engine room and solid guardrails but in a modern looking package. The 60 boasts enormous volume and stowage, has a truly luxurious feel to the interior, and comes with an impressively high standard spec including a carbon mast
Price ex VAT: €1,650,000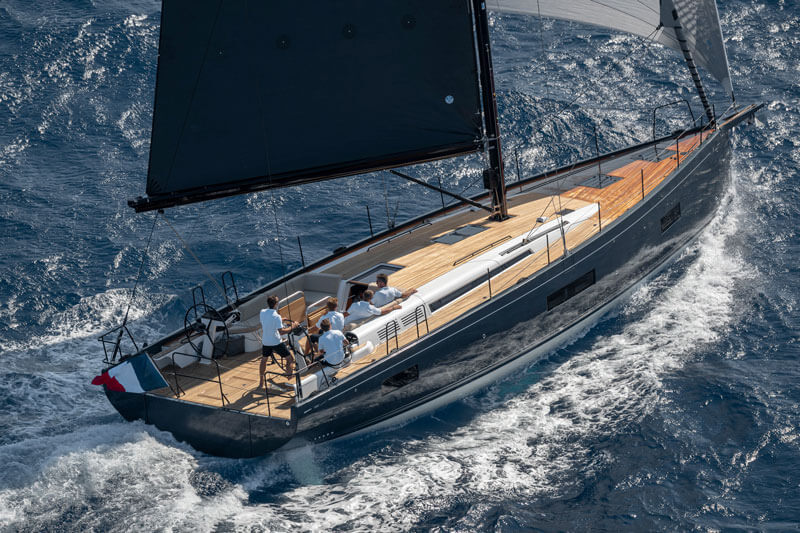 PERFORMANCE CRUISER
Nominees: Beneteau First 53, Italia Yachts 11.98, RM 1180, X 4.0
Winner: X4.0
X Yachts took already excellent boats in the X 4.3 and X 4.6 and refined and refined them to produce this, arguably the benchmark for today's 40ft performance cruiser. The X 4.0 is a sailor's yacht with plenty of modern styling. Although the focus is on cruising, the ergonomic cockpit set-up can still suit racing. The proportion of space is also superb throughout, from the cockpit to the accommodation. It's a design that's hard to fault. 
Price ex VAT: €257,500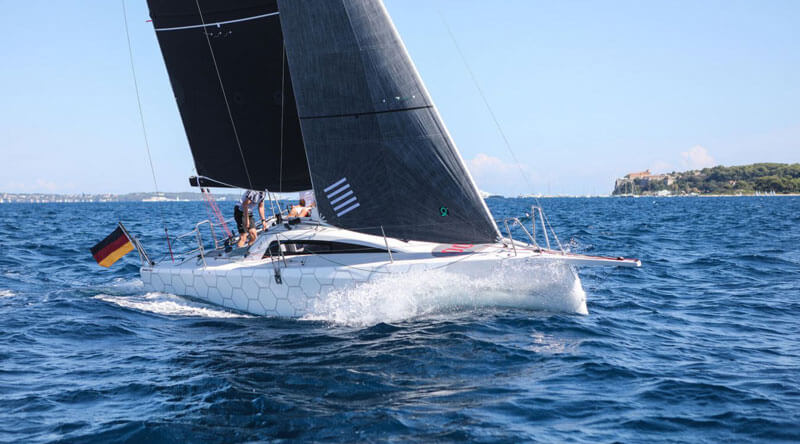 RACE YACHT
Nominees:    ClubSwan 36, Dehler 30 OD, J/99, Jeanneau Sun Fast 3300, JPK 1080 
Winner Race: Dehler 30 OD
The Dehler 30 OD is a very well executed concept, with up-to-date looks in an appealing, versatile design. It can be sailed short-handed or crewed, and has a proper little interior – a mini offshore racer that you can sleep on. Dehler has also been generous with features, such as a carbon mast and carbon-reinforced hull structure, water ballast, a retractable propeller, and serious sail area including a square top main, which is balanced by a deep keel and twin rudders.
Price ex VAT: €108,900
So, who owns what vessels around the globe? Using data from the specialists at WINGX and Superyacht Intelligence, The Knight Frank 2019 Wealth Report  has analysed global superyacht fleets and how they move around the world:
WHO OWNS THE YACHTS? Breakdown and global ownership distribution of superyacht fleets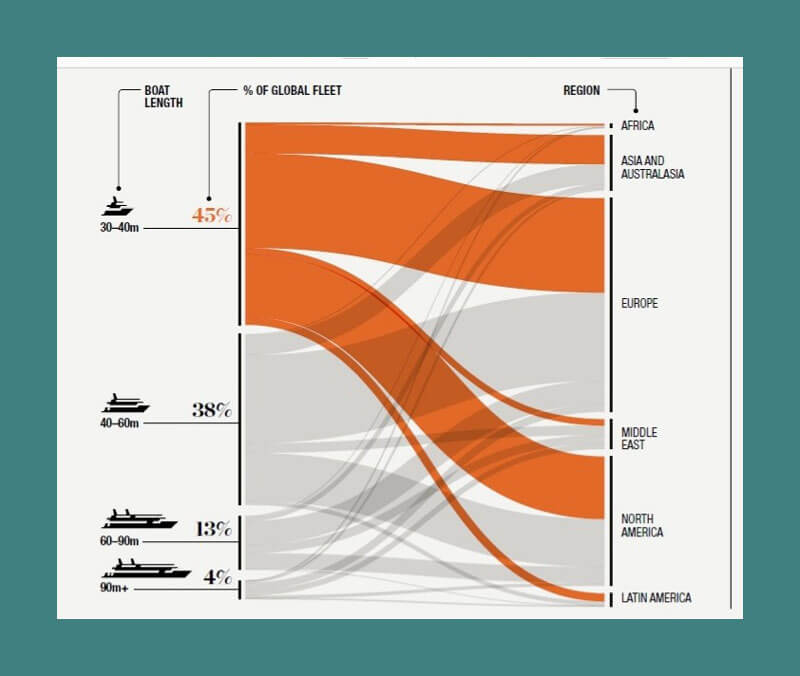 Whether your passion is ultimately for the illustrious history and heritage of the classic yacht or for something more modern, value comes from investing in something unique, and most of all, something which will enhance your leisure time. In today's world, that is something truly exceptional.
*Disclosures: This material does not provide individually tailored investment advice. It has been prepared without regard to the individual financial circumstances and objectives of persons who receive it. ARM Investments (ARMI) advises investors to independently evaluate particular investments and strategies, and seek the advice of a financial advisor or wealth manager. The appropriateness of a particular investment or strategy will depend on an investor's individual circumstances and objectives.