FROM HERMIT TO HEGEMONY
China accounts for about 15% of the world's money supply, and up until mid-2009, almost all of its money was sealed within the country's borders.
Not anymore. After 1999, its supposed hermit currency has become conspicuously more cosmopolitan, with the government allowing Chinese importers and exporters to settle their trades in yuan, and Chinese firms to make foreign direct investments with the currency.
Similarly, multinationals all over the world whose only payment option for purchases from Chinese suppliers was hard currency, now have an opportunity to make settlements in China's own local currency, the Yuan (or Renminbi – RMB).
To gain a better understanding of what company – and even country – attitudes and outlooks are toward using the Chinese Yuan for cross-border transactions, we delve into the recent currency swap deal signed between Nigeria and China, and the outstanding internationalisation of the Renminbi.
Gaining currency                                                    
THE NIGERIA-CHINA EXCHANGE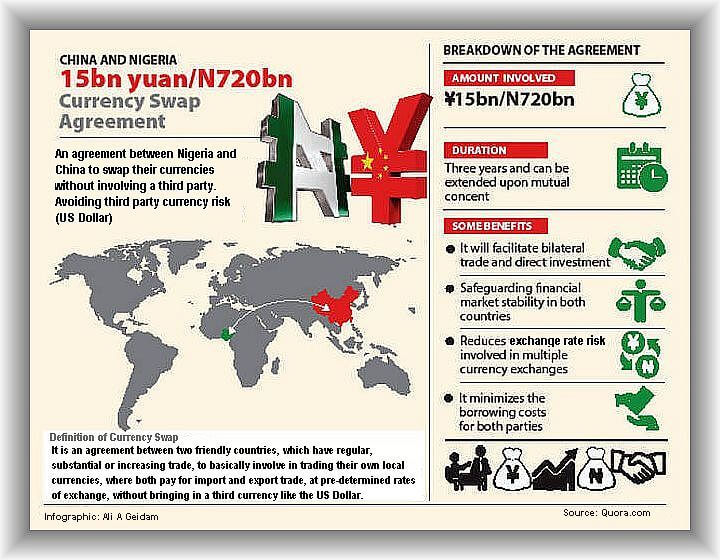 On April 27, 2018 the Central Bank of Nigeria (CBN) and its Chinese counterpart, the People's Bank of China (PBoC), signed a bilateral currency swap agreement that will enhance the ease of doing business between Nigeria and China. The three-year rolling foreign exchange agreement – valued at NGN 720 billion, or Renminbi 15 billion (approximately US$2.5 billion) – will see both Chinese and Nigerian businesses and individuals pay for goods in the destination country's local currency, thereby reducing the soaring demand for third-party currencies such as the US Dollar. Nigeria has become the fourth country in Africa (following Ghana, South Africa and Zimbabwe) to sign on to a Renminbi swap deal.
Navigating new waters
BENEFITS OF A CURRENCY SWAP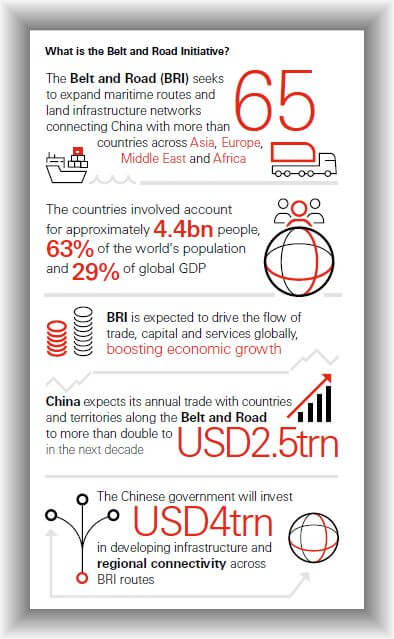 For Nigeria and China, the currency swap deal provides Naira and RMB liquidity to Chinese and Nigerian businesses respectively, in settlement of import transactions. Nigerian and Chinese companies will no longer require a third-party currency (Dollar, Euro or the Great British Pound) for trade between themselves.
As a risk management tool, currency swap agreements make it possible for investors in both countries to reduce exposure to exchange rate fluctuations, as rates are known from the onset of a transaction. Currency losses attributable to third currency volatility – for example, Naira, Dollar, Yuan cross exchange rate risk – are also greatly minimised, all of which potentially improve the speed, convenience and volume of commerce between both parties.
Indeed, some of China's capital controls will continue to spur the yuan's use in trade. When Chinese exporters are paid in dollars, the country's foreign-exchange regulator steps in, verifying the transaction before releasing the funds. But the yuan escapes such scrutiny, making it increasingly popular with Chinese suppliers.
The same applies to importers of Chinese goods. Using China's currency brings other advantages – it makes Chinese invoices cheaper and clearer: clearer because the supplier's costs and markups are not bogged down by their exchange-rate calculations, and cheaper because suppliers no longer add a bit extra in case the yuan goes up. This currency risk is instead passed on to the foreign buyer, who is typically better placed to hedge against it.[1]
Early in June 2018, the Central Bank of Nigeria (CBN) published regulatory guidelines titled "Regulations for Transactions with Authorised Dealers in Renmnbi", for use by prospective operators (commercial banks, merchant banks, importers, other authorised dealers) under the bilateral currency swap agreement between Nigeria and China. The guidelines cover everything from exchange rates, banned items, and bidding sessions, to modes of payment and intervention.
Internationalisation
THE RISE OF RENMINBI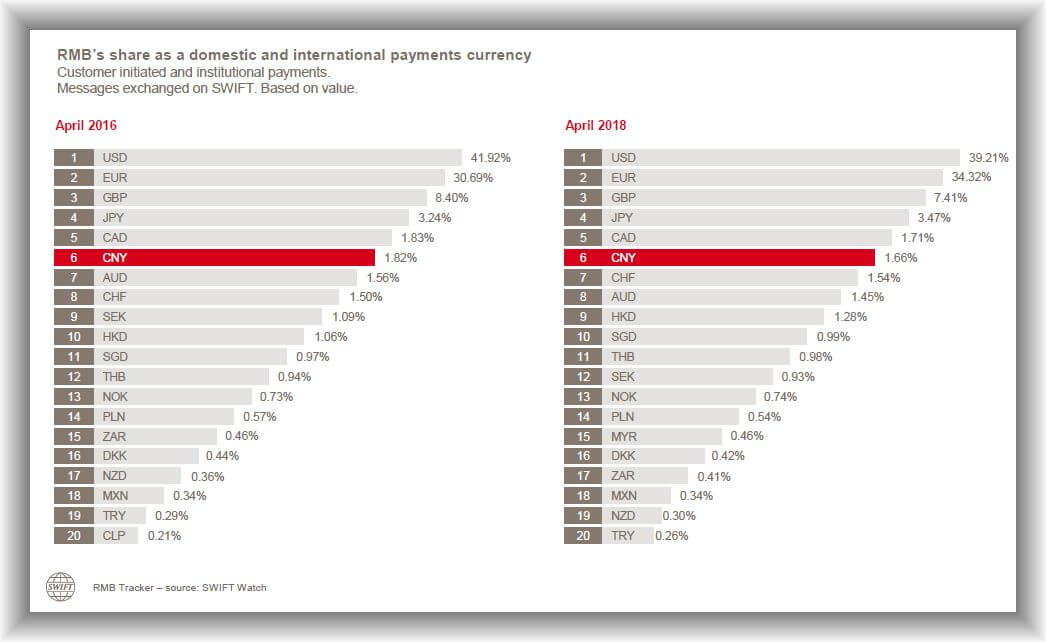 Once ranked as the 20th most active currency for international payments (in 2012), RMB has moved to 6th place in April 2018, retaining its top position as one of the most active currencies for domestic and international payments by value, with a share of 1.66%. It is growing fast.
RMB adoption has grown steadily over the years driven by a variety of factors:
Ongoing improvements to the RMB infrastructure with the launch of the Cross-Border Inter-Bank Payment System (CIPS) in late 2015;
Access to more clearing banks (24 banks as of mid-February 2018) around the world and 36 currency swap agreements totalling over RMB3 trillion;
More support from banks, with over 1,900 financial institutions using RMB to make international payments;
A relaxation in China's capital markets with an evolving regulatory landscape intended to drive long-term investment.
New treasury and cash flow solutions that make it easier for corporates to integrate RMB into their payments and receivables processes;

A better overall understanding of RMB documentation and regulations has made trading counterparts more comfortable using RMB;
Facilitating global reach
THE BELT AND ROAD INITIATIVE (BRI)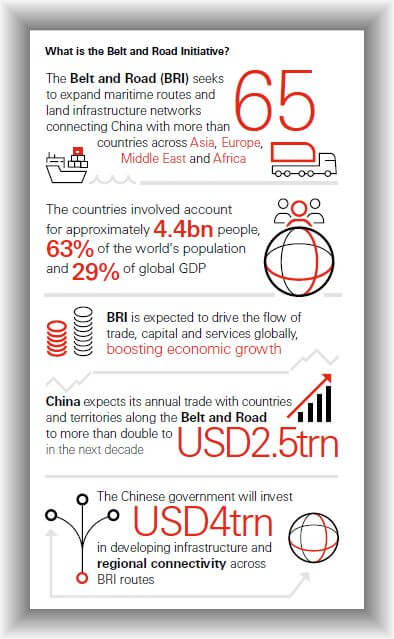 There is a growing awareness of the Belt and Road Initiative (BRI) – China's large-scale, multidimensional strategy intended to drive trade, capital and services between their country and the rest of the world by connecting more than 65 countries through two trade routes. The objective of BRI is to create opportunities by providing better access to outbound Chinese investment and new customers and is expected to not only increase trade with Belt and Road countries but also the use of RMB as a trade currency. The rise of China's currency will change the way the world does business, with HSBC Global Research predicting that RMB will become one of the top five currencies by trading volume by 2020.
Trade Imbalance
EXPORT OPPORTUNITIES TO CHINA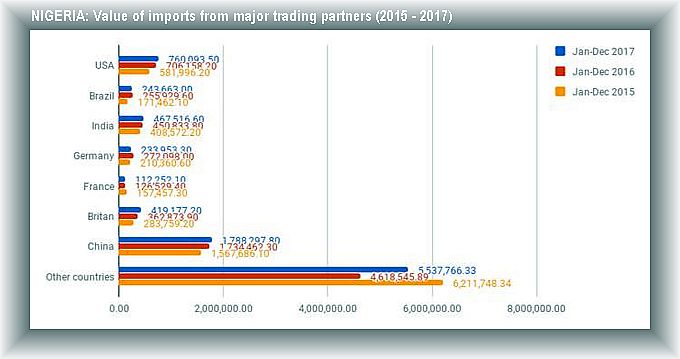 At FY 2017, the total amount of goods imported by Nigeria from China stood at N1.788 trillion, clearly placing China as Nigeria's major trading partner. Conversely, a heavily lopsided relationship is evident in China's bilateral trade figures with Nigeria, which stood at just $12.3 billion for FY 2017. For the Naira-Renminbi currency swap to become lucrative to Nigeria as a whole, analysts suggest:
That the only obvious way forward is to implement deliberate policies geared towards increasing the country's exports to China – using China's 'Top 10 imports' statistics as a guideline for targeted exports.
That the NGN 720 billion Naira-Renminbi swap value (which covers three years) barely tackles up to 50 per cent of Nigeria's 1.788 trillion imports from China in only one calendar year, and will need to be dramatically increased if it is to make any impact at all on reducing Dollar demand.
China's Top 10 Imports
The following product groups represent the highest dollar value in China's import purchases during 2017. Also shown is the percentage share each product category represents in terms of overall imports into China.
| | | |
| --- | --- | --- |
| PRODUCT | DOLLAR VALUE (US$) | % OF TOTAL IMPORTS |
| Electrical machinery, equipment | $455.5 billion | 24.7% |
| Mineral fuels, including oil | $247.6 billion | 13.4% |
| Machinery, including computers | $169.8 billion | 9.2% |
| Ores, slag, ash | $125.4 billion | 6.8% |
| Optical, technical, medical apparatus | $97.4 billion | 5.3% |
| Vehicles | $79.2 billion | 4.3% |
| Plastics, plastic articles | $68.9 billion | 3.7% |
| Organic chemicals | $55.8 billion | 3% |
| Oil seeds | $44.5 billion | 2.4% |
| Copper | $41.2 billion | 2.2% |
| | | |
Conclusion
For entities across the world that may be reluctant to adopt an unfamiliar currency – or are stuck to the Dollar, Yen, Euro and Pound Sterling – this numisphobia could prove costly. China's currency is gaining ground. The more widely the Yuan is used, the more useful it will become, in leaps and bounds. Western countries that have been slow to adopt the Yuan already account for a falling share of China's trade. As Nigeria gets in on the Renminbi momentum, a popular national phrase comes to mind: 'We never like to come last in any race'.