SPARKLING RETURNS
Gemstones, diamonds and precious metals: jewellery is born of nature's finest handiwork. And when actress Elizabeth Taylor's high-end jewellery collection was sold in 2011 by Christie's for an earth-shattering £74.9 million, it became clear that not only were diamonds a girl's best friend, but bought carefully, they could also become a valuable investment.
As luxury jewellery becomes one of the growing areas for passion investments (surpassing even cars), it is unsurprising that it carries an intrinsic emotional value, while also being able to store wealth over time.
This is a recurring theme across this article as we feature the most expensive pieces of jewellery ever sold, some of the latest exquisite valuables presented at the just concluded Paris Haute Couture Week, and advice on how to acquire jewellery as an investment.
Brenda Kang (founder of vintage jewels retailer Revival Jewels and ex-senior jewellery specialist at Christie's New York, Paris, Geneva, China and Singapore) sums up the intriguing relationship that can be had with fine pieces, when she says:
• "If a piece of jewellery gives you great mileage, is something you can wear often, enhances your image, is an extension of your character, creates conversations because of its beauty and rarity and, finally, is able to hold its value in the long run, then surely one would have made a worthy investment"
JEWELLERY WITH ATTITUDE
The purchase of jewellery may still be more of an emotional rather than financial investment, but these Top 7 most expensive ornaments tell a remarkably intense story of gems excelling as a store of value:
GEM, PRICE AND THEIR HISTORY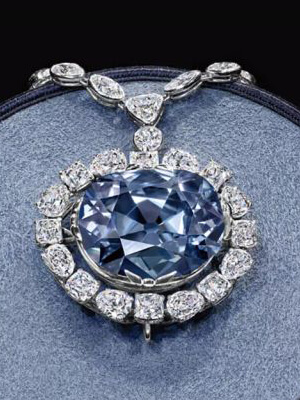 The Hope Diamond
($200-250 million)
One of the most widely recognised jewels in the world, the Hope Diamond is a 45.42-carat fancy dark grayish-blue, antique cushion cut diamond. Since its initial discovery in Golconda, India in 1666, the diamond has changed hands numerous times. It was originally purchased by King Louis XIV in 1668 and dubbed the "French Blue". The diamond remained in the possession of the French royal family until 1792, when it was stolen during the French Revolution. It reappeared in 1839 in the gem collection catalogue of Henry Philip Hope. After passing through several more owners, including Pierre Cartier and socialite Evalyn Walsh McLean, the gem was purchased in 1949 by jeweller Harry Winston, who ultimately donated it to the Smithsonian Institution, where it remains on display today.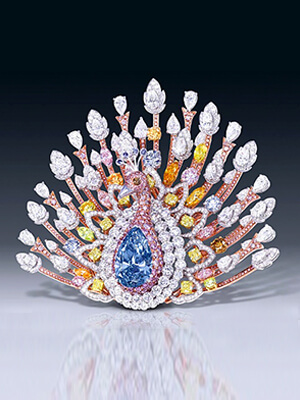 Peacock Brooch by Graff Diamonds
($100 million)
The peacock brooch has a total carat weight of 120.81. This incredible display of beauty and extravagance from Graff Diamonds contains 1,305 gemstones and measures just over 10 centimetres in height. The centre diamond is a pear-shaped fancy deep blue diamond that weights 20.02 carats on its own. Fanning out from the centre of the brooch are white, yellow, pink, orange, and green diamonds.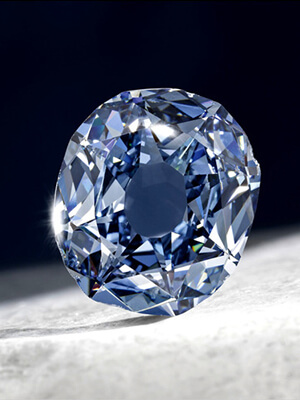 Wittelsbach-Graff Diamond
($80 million)
Discovered in an Indian mine in the 1600s, the 35.56-carat, fancy deep greyish blue Wittelsbach Diamond is rumoured to have first been owned by King Philip IV of Spain and included in the dowry of his daughter Magarita Teresa upon her engagement to Emperor Leopold I of Austria in 1664. The jewel remained a part of the Austrian and Bavarian crown jewels for centuries. Jeweller Laurence Graff purchased the Wittelsbach Diamond in 2008 for $22 million and controversially had it recut to its current state, a 31.06-carat, fancy deep blue, cushion cut diamond. The re-cutting improved the jewel's clarity and brilliance and increased its value tremendously. In 2011, the diamond was sold for over $80 million to its current owner, a member of the Qatari royal family.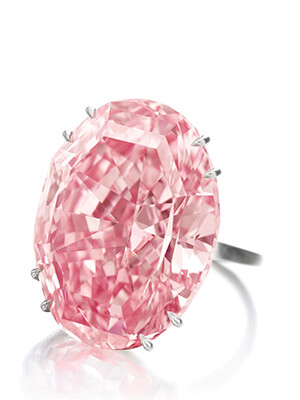 Pink Star($71.2 million)
In early April 2017, the Pink Star fetched $71.2 million dollars at a Sotheby's auction, making it the most expensive jewel ever sold at auction. The Pink Star was purchased only five minutes into bidding by Hong Kong conglomerate company Chow Tai Fook Enterprises. Formerly known as the Steinmetz Pink, this fancy vivid pink diamond weighs 59.6 carats and is the largest "internally flawless, fancy vivid pink" diamond to ever be graded by the Gemological Institute of America (GIA). The Pink Star was originally mined by De Beers in Africa in 1999 and weighed 132.5 carats before being cut and polished into its current impressive state.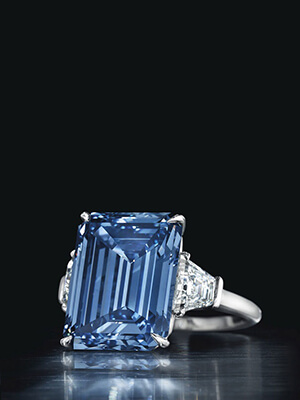 Oppenheimer Blue($57.5 million)
This blue diamond shocked audiences when it fetched $57.5 million at a Christie's auction in May 2016. At the time, this14.62 emerald-cut stone that once belonged to Sir Philip Oppenheimer was the most expensive jewel ever sold at auction.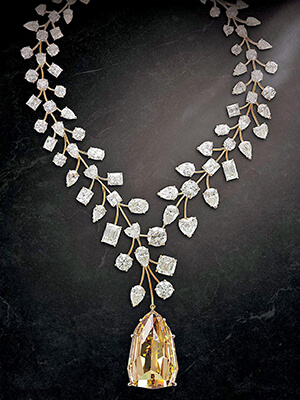 L'Incomparable Diamond Necklace($55 million)
The world's most valuable necklace, created by jeweller Mouawad, contains the world's largest internally flawless diamond. In the Democratic Republic of Congo in the 1980s, a young girl discovered the central diamond in a pile of mining rubble. The 407.48-carat diamond is attached to a rose gold chain adorned with 230 carats of smaller diamonds.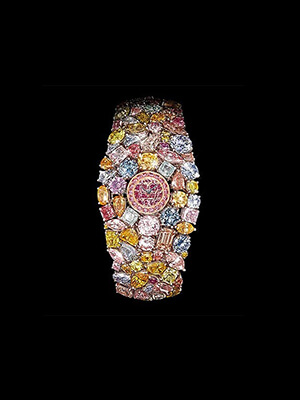 Graff Diamonds Hallucination($55 million)
Unveiled at the Baselword 2014 watch and jewellery fair, this unprecedented ladies' quartz watch is made up of 110 carats of diamonds. Diamonds of all colours, including Fancy Pink, Fancy Yellow, Fancy Green, and Fancy Blue, and cuts, including emerald, heart, pear, marquise, and round, are combined to create this spectacular timepiece.
Africa makes its mark
SPECTACULAR PIECES FROM PARIS HAUTE COUTURE WEEK
As the world's wealthiest assembled in Paris for the Haute Couture Week (July 1-8, 2018), the city's finest jewellers showcased their most opulent creations. Some of this season's highlights included a Chaumet collaboration with Kenyan artist Evans Mbugua on a high jewellery collection inspired by sub-Saharan Africa. The pieces on show were nothing short of mesmerising: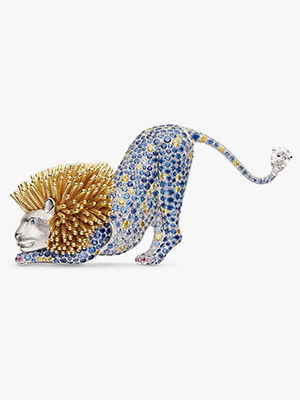 The Lion brooch designed by Kenyan artist, Evans Mbugua, for Chaumet:
The "Espiègleries" brooch from the Tresors d'Afrique collection, in white gold and yellow gold, set with a pear-shaped DVVS2 diamond of 0.80 carat, round sapphires, round yellow, blue and pink sapphires.
Price on Request: www.chaumet.com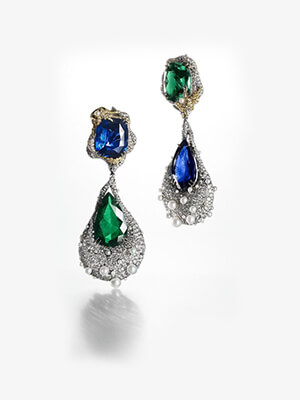 Cindy Chao Odyssey earrings from the Aquatic Collection:
Dominated by the asymmetrical placement of two sapphires (one pear cut totalling 26.18 carats, one cushion cut totalling 20.28 carats) and two emeralds (a pear cut totalling 14.67 carats and a cushion cut totalling 17.25 carats), surrounded by white and yellow diamonds and sapphires, adding up to more than 30 carats and 87 pearls, all set in titanium and 18-karat gold.
Price on Request: www.cindychao.com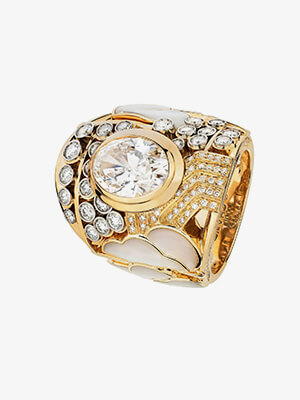 The "Horizon Lointain" ("Faraway Horizon") bracelet by Chanel:
An intricate oriental-inspired design, crafted in 18-karat yellow gold and platinum and embellished with 1,136 round-cut white diamonds, 19 pieces of carved white mother of pearl and, at its centre, one 3.73-carat oval-cut diamond;
Price upon request: chanel.com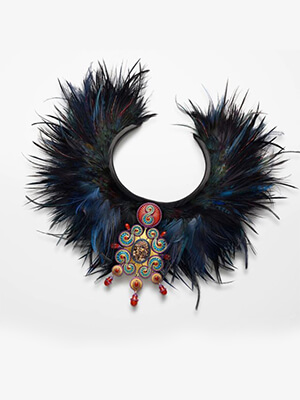 Sculpted cameo, blue apatite, garnet, jasper and one-of-a-kind feather necklace by Chopard: Turquoise cameo set within a riot of colour gemstones on a necklace of real feathers, inspired by traditional Mongolian costumes. Limited Edition.
Price on Request: www.chopard.com
Profitable passion
BUYING JEWELLERY AS AN INVESTMENT
What is the best way to acquire gemstones that are able to exceed, or at least, retain their value for years to come? Two jewellery experts – Quek Chin Yeow (Deputy Chairman of Sotheby's Asia and Chairman of International Jewellery, Asia); and Brenda Kang (founder of vintage jewels retailer, Revival Jewels, and ex-senior jewellery specialist at Christie's New York, Paris, Geneva, China and Singapore) share their views:
What tips would you give someone looking to start investing in jewellery?
KANG: I always tell my clients jewellery is much more than just another investment. It can return to the wearer a joy from life's special moments and occasions for you and future generations to hold dear. That said, it is a fact that if you buy jewellery well and have a good outlet for liquidating when you need it, your jewellery can outperform the stock market.
As with any other form of investment, you need to do your research, analyse the current and historical market prices and have in-depth knowledge of your product. If you don't have the time or opportunity to invest in the research, then consult someone who has many years of international experience with trading in jewellery and gemstones.
Other points to keep in mind:
• Signed (or branded) pieces hold value comparably well, but not all signed pieces are good investments: Mass produced pieces lose 50% of their value the minute you walk out the shop door;
• Pick pieces you enjoy wearing, but also ones that resonate with international collectors too. For example, Jade or Peranakan jewellery appeal to some Asian collectors but not with European or American collectors, which limits its saleability when you need to liquidate;
• Well selected vintage pieces can make for a better investment because of its lower price point. Look especially for vintage pieces with great workmanship that is costly to replicate, or pieces with rare gemstones;
• Condition, craftsmanship, design, certificates, maker's marks, hallmarks and brand history, are all very important factors to bear in mind when evaluating a piece. All these can be learnt from seeing and handling a lot of jewellery, from all historical periods.
What factors make a jewellery piece a worthy investment? Is it all about the gems?
QUEK: The quality of the gemstone is a critical factor. The rarity of a top quality gemstone is what gem connoisseurs will really go for. This is an element that significantly contributes to the value of a piece. However, it is also good craftsmanship with a unique design that will bring out the best in a rare gemstone. Iconic pieces that represent certain stylistic periods by renowned jewellery brands such as Art Deco pieces by Cartier continue to be highly sought after.
KANG: Rarity, desirability, condition of the piece (in the case of vintage), and who is collecting the brand. Rene Boivin, Suzanne Belperron, Jean Schlumberger, Fulco di Verdura, JAR, Bhagat pieces stand out for their unique designs and high-quality craftsmanship. More importantly, they had a long list of important international jewellery collectors who supported them. Provenance, or who owned it previously, can add value also. As a general rule of thumb, provenance adds more value when it's from a collector who was known for a great collection of jewellery (like Elizabeth Taylor or the Duchess of Windsor), versus someone like Margaret Thatcher.