The 2018 DP World Tour Championship Dubai was recently played at Jumeirah Golf Estates' Earth Course, with Danny Willett winning first place prize of $1,333,330 out of a total purse of $8 million.
Not only does golf attract big pay-offs for its professional players, but there's also a certain niche associated with the game which seems to be thriving. It's called golf property.
First popularised in the United States, this unique real estate category refers to residential properties that surround a golf course. For many potential buyers, access to a course is a secondary consideration – what is perhaps more important is the master planning and flawless design behind these estates which provide occupiers with a serene, communal, secure, and luxurious lifestyle.
This lifestyle comes at a premium, but one that buyers are prepared to pay, given the blue-chip facilities on offer – clubhouses, pools, tennis and basketball courts, playgrounds, restaurants, walking trails, health resorts, and a gated community.
Whether you're an avid golfer or a homeowner who does not know the difference between a 3-wood and Tiger Woods, this article profiles three premium golf estates (Jumeirah Golf Estates, Lakowe Lakes, Eye of Africa), showing how the prestige and exclusivity attached to these types of developments drive up their value, generally making them a sound long-term investment proposition.
Lakowe Lakes Golf & Country Estate: Lagos Nigeria
Lakowe Lakes Golf and Country Estate is a 308-hectare exclusive, serene haven, strategically located approximately 25 minutes outside the bustling business centre of Lagos city, and guaranteeing occupants easy access to other neighbourhoods. The Estate offers a variety of house types — detached villas, loft apartments, flats and terrace homes — for a more unique and personal experience Its distinctive lifestyle in a secure and luxurious environment, unmatched by any other development in West Africa.
Situated in an exclusive area of Lakowe Lakes is The Village – a private, secure community of just 18 homes, built along two contemporary, modernist designs and distinctly finished by award winning interior designers. 
Each home will have its own amenities, fitted to suit the residents' own requirements, including wide doorways, ramp access, handrails, special lighting and security features. Also on offer are exclusive use of the Estate's pristine 18-hole golf course, dedicated gym, mini club house, swimming pool, landscaped gardens, bike trails and walkways, and access to other facilities such as the planned Lakeside Recreation Centre, set on the banks of Lakowe's breath-taking 55 hectare lake.
MODEL COMMUNITY: THE VILLAGE – THE PALM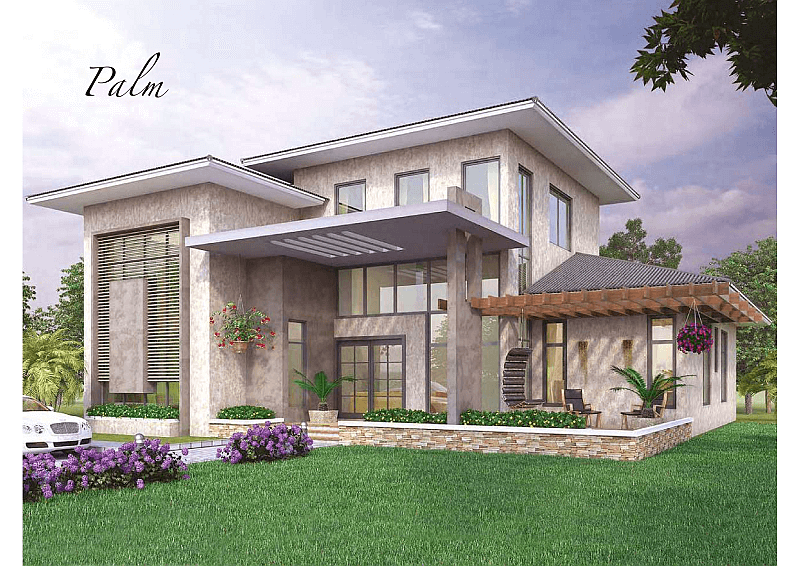 The Palm is a cluster of bespoke chalet-style bungalows, with the privacy of a separate top floor. Features include:
| | |
| --- | --- |
| Integrated feature lighting and shade on façade | Landscaped gardens with character patios, raised flower beds, and seating areas. |
| Open and Spacious. | Integration of out-door sitting and expansive glazing to promote openness. |
| Surrounded by the right light contrasts with open panoramic views. | Tastefully finished with a blend of contemporary and modernist interior designs. |
| Access ramp for physically-challenged persons. | Floor Area without terraces: 250m2 |
| Ground floor area inclusive of terraces: 352m2 | Floor Area of Master suite (First-Floor): 100m2 |
Jumeirah Golf Estates: Dubai - United Arab Emirates
Jumeirah Golf Estates is a 1,119-hectare, world-class residential golf destination, offering luxury homes and leisure facilities amidst two of the world's finest golf courses – Earth and Fire
As host of the annual DP World Tour Championship until 2020, and home to the Middle East's only European Tour Performance Institute, Jumeirah easily rivals the best international golfing destinations.
The golf community currently comprises 16 unique communities (with 700 families and more than 1,835 homes), creating an unmatched lifestyle experience in the heart of new Dubai.
MODEL COMMUNITY: REDWOOD AVENUE
A serene haven for unparalleled living, Redwood Avenue is a tailored development of 66 individual family homes, consisting of 5-6 bedroom premium villas with an average plot size of 14,300 square feet and an average built up area of 9,200 square feet. Eleven architectural styles follow five interior themes, Fire, Earth, Wind, Water and Bespoke. From beautiful Mediterranean themed architecture and stunning views of the nearby Clubhouse & Country Club, to fully landscaped gardens, swimming pools and outdoor living areas, Redwood beckons homeowners to live the ultimate relaxed lifestyle.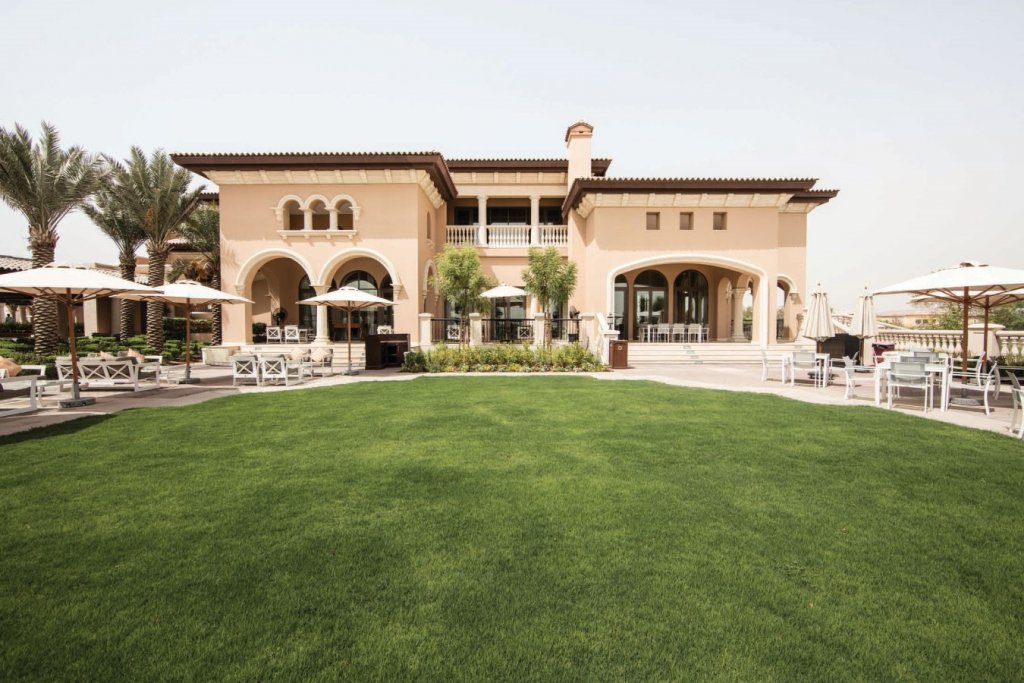 | Enquiries:  jumeirahgolfestates.com |  Customercare@jumeirahgolfestates.com
Eye of Africa Golf Signature Estate: Eikenhof, Johannesburg - South Africa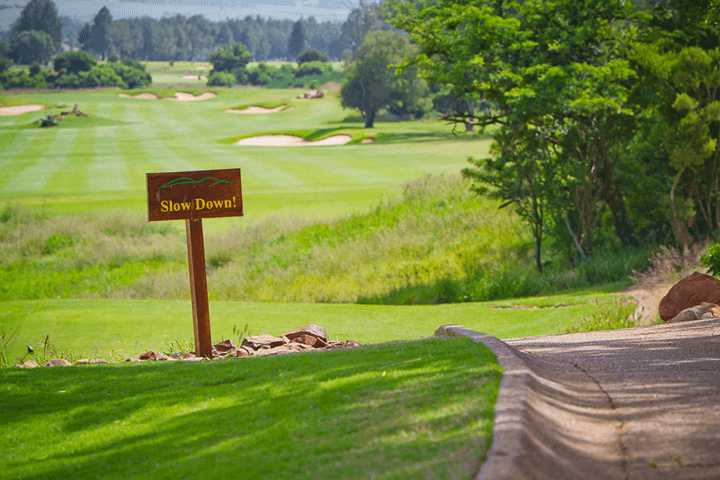 South Africa has some of the best golf estates in the world, with Eye of Africa being one of its most enviable lifestyle locations. Prospective homeowners are able to select an empty stand to build their freehold luxury home or buy a house or apartment within one of the cluster villages (The Village, Stone Quarter, or Origins). With panoramic views of the Johannesburg skyline, Eye of Africa is home to the only Greg Norman-designed golf course in South Africa. The Eye of Africa PGA Championship is regularly hosted on this Estate, with the 2019 edition being played from January 31 to February 3.
Origins is an upmarket lifestyle estate which offers residents a unique luxury living experience with beautiful elegant design, fused with the tranquillity of nature. It will be home to 26 beautifully appointed structures.
Not surprisingly, given Eye of Africa's emphasis on cherishing Johannesburg's natural heritage, Origins has embraced eco-friendly architecture with three-to-five bedroomed options featuring deep roof overhangs and open plan living areas. Homeowners are able to select from a menu of optional extras (including a boma, pool, airconditioning, surround sound, and underfloor heating) to create their dream lifestyle.
Some of the many facilities to be enjoyed at Origins include Central Park, The Waffle, Schoolhouse Deli, Grillhouse eatery, a putting green, floodlit tennis courts, netball courts, and a convenience store.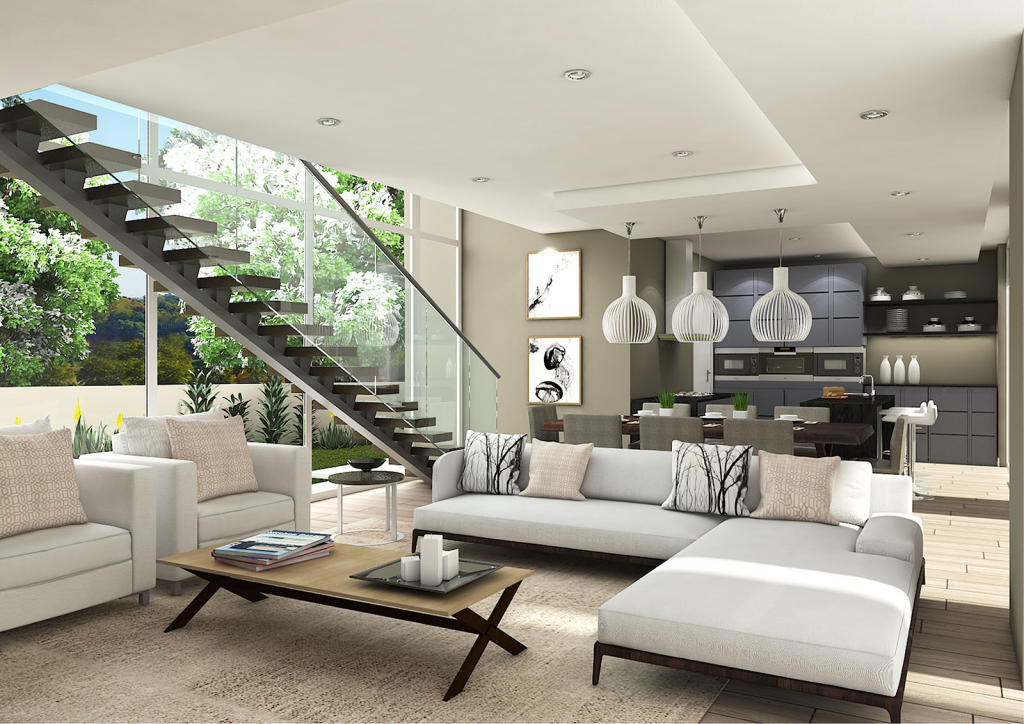 | http://eyeofafrica.co.za
| From R4 690 000
Teeing off - Equity Or Cash: Financing Your Residential Property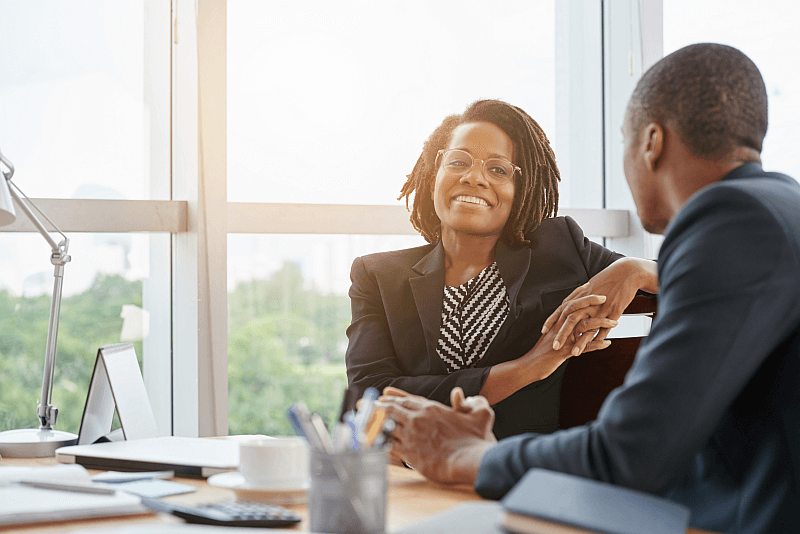 Clara Iordaah has $100,000 to invest. She can choose to apply the entire $100,000 to buy a house that will produce $1,000 per month in income or $12,000 per year. This equates to a 12% return-on-investment.
She could also instead use that $100,000 as a 20% down payment on FIVE similar homes, each listed at $100,000. With an $80,000 mortgage on each, the cash flow would be approximately $300 each month per house, which is $1,500 per month each or $18,000 per year. This equates to a 18% return-on-investment – 50% better than buying just one home.
The scenario above can be extrapolated into so many variables which show that several financing options are available for investing in property – cash, mortgage, owner financing etc.
 While the' all-cash' option is clearly the easiest form of financing, investment capital can also come from a variety of sources, and be structured in as many ways. Whether investing in a single or multiple properties, your financial advisor is in the best position to help increase your investment yield, and ensure that your financial goals are met.
Golf property is a boutique market. Once a magnet for only golf-loving retirees looking to enjoy the quiet life, these manicured estates now seem like a good investment proposition to a much wider demographic that now includes young singles, non-golfers, and families wanting to provide a safe, beautiful environment for their offspring. As urban boundaries continue to spread, and families look towards a less urban, traffic-free lifestyle without sacrificing the benefits of good educational and recreational facilities, so the viability of residential estates retain their appeal, while delivering capital growth or income as the estate matures.
*Disclosures: This material does not provide individually tailored investment advice. It has been prepared without regard to the individual financial circumstances and objectives of persons who receive it. ARM Investments (ARMI) advises investors to independently evaluate particular investments and strategies, and seek the advice of a financial advisor or wealth manager. The appropriateness of a particular investment or strategy will depend on an investor's individual circumstances and objectives.
*For financial or wealth management advice, please contact ARM Investment Managers: