Owning a luxury watch has long been an indicator of status and buying power, and these two scenarios – even though disarmingly different – underscore the fact: 
In 2018, the most expensive watch at auction was the 1970 Rolex Daytona "Unicorn", sold by Phillips with Bacs & Russo for a staggering US$5.9 million.
Just last week, a tourist was left shocked after his watch – a Richard Mille (RM) 50-03 MCLaren F1, valued at approximately $1.3 million – was swiped off his wrist by a pickpocket in Ibiza, Spain.
Considering the connotation of greatness and wealth appreciation that haute horlogerie timepieces bear, this article highlights: 
Investment-worthy and visually appealing watches produced by the grand maisons whose centuries-old competitive race of complexity and difficulty are backed by the assurance of superlative quality and watchmaking expertise.
A career-defining option offered by one of the world's most desirable brands, Patek Phillippe – the establishment of a new elite watchmaking school, which is a tuition-free, two-year watchmaking course that trains the next generation of specialised watchmakers;
A new interest for timepiece collectors – "Independent Watchmakers" is a new publication that showcases exclusive watches from 62 relatively unknown but sturdy artisans whose pieces feature everything from their own tourbillon designs to Greco-Roman themes.
Economies may be exhibiting signs of a slowdown, but prices for luxury watches continue to soar. Knight Frank's most recent 'Wealth Report Attitudes Survey' pinpoints 'personal enjoyment' as the number one reason why ultra-high-net worth individuals collect and buy luxury assets. Here are some of the top buys, in terms of aesthetics and the three pillars of watch investment – brand recognition, demand, and rarity:
 

 

Rolex Daytona 116508 | $34,650 (list price)

 

This timepiece is a mechanical cosmograph that functions as both timekeeper and topwatch, with three subdials that racecar drivers can use to measure distance and speed.

 

What the experts say: Although the Rolex Daytona 116508 can be ordered with champagne-coloured or black dials, the current frenzy is centred around this iridescent green version. Authorised dealers are sold out, and prices on the secondary market have exceeded $50,000 — which seems to be a record for the brand.

 

 

Audemars Piguet Royal Oak Automatic | £16,333

 

Powered by a self-winding manufacture calibre 3120 movement and with a 60-hour power reserve, the Royal Oak is made up of 280 parts and 40 jewels

 

What the expert says: "The Royal Oak has barely changed since 1972 and for good reason – its designer Gérald Genta's octagonal case and integrated bracelet was spot-on from inception. That sort of integrity will come to bear in a lifetime's value, both sentimental and monetary."

 

Omega Seamaster 300M | £4,720

 

This Seamaster 300 has a sand-blasted black dial with rhodium-plated hands coated with "vintage" Super-LumiNova. The polished ceramic bezel ring has a Liquidmetal diving scale, and the transparent caseback makes it possible to see the anti-magnetic OMEGA Master Co-Axial calibre 8400 within.

 

What the expert says: "This is a brand that is increasing in resale value faster than anyone else. In addition, you could still find the quartz version of the Seamaster, which is being phased out very soon. Discontinued watches are very collectible."

 

Patek Philippe Ref 5320G Perpetual Calendar | £36,000

 

The 5320G perpetual calendar, with its lacquered cream dial and white-gold case, seem quite demure and simple for a watch that retails at circa £63,000. This kind of watch is known as a "Grand Complication" and can not only tell the time, day of the week and month, but also, impressively, what phase of its cycle the moon is currently in.
INDUSTRY EVENT OF 2019: The Grand Prix d'Horlogerie de Genève (GPHG) where the prestigious "Aiguille d'Or" ("Golden Hand") trophy is awarded to the timepiece chosen by the jury as the best of the best. November 07, 2017  |   Théatre du Léman, Geneva.
www.gphg.org/horlogerie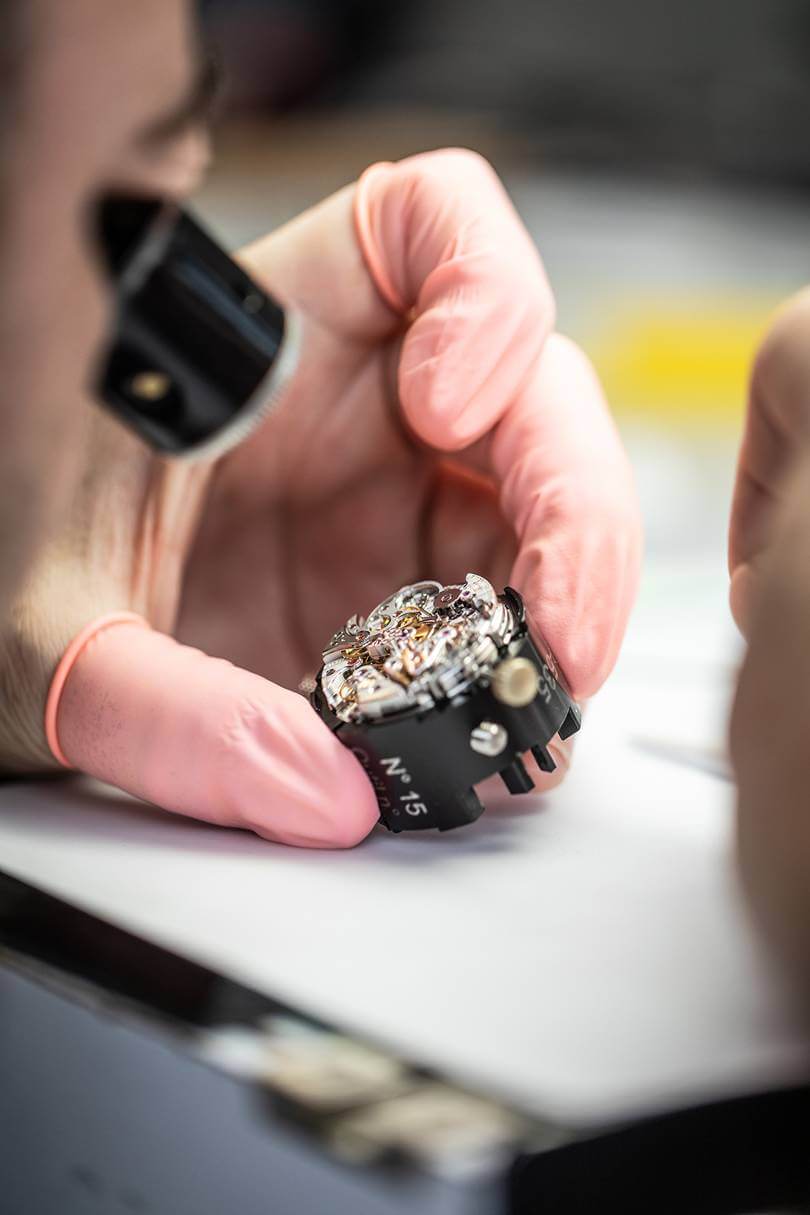 Career Alert: Next-Generation Watchmakers
Watchmaking is an endangered art, yet more people than ever before desire a wildly expensive and complicated timepiece. To cater to this timeless craft, a relatively new school trying to bridge this divide has been established by foremost timepiece brand, Patek Philippe. The Patek Philippe Horology Program of New York is a two-year, tuition-free program during which students are paid a small stipend. Patek Philippe USA: +1 212-218-1240
Explore: Watches You Never Heard of
"In his book, 'Independent Watchmakers' , Steve Huyton (founder of the Paolo Mathai Horology label) showcases timepieces, brands and watchmakers that people had never heard of, from different regions around the world. The publication features 60 high-quality watches from independent makers, many of which are one-of-a-kind. With a focus on design over price, these watches range from the affordable to the luxurious
INTERESTING EXCERPT: Independent watch maker, Masahiro Kikuno, 36, said he was not taking new orders this year (2019) as he already has customers waiting until 2021 for deliveries (he makes only up to three watches each year).
Unfamiliar but sturdy: The Everywhere watch from Krayon, a Swiss brand started by Rémi Maillat, formerly of Cartier
Talk to us
For professional financial or wealth management advice...
*Disclosures: This material does not provide individually tailored investment advice. It has been prepared without regard to the individual financial circumstances and objectives of persons who receive it. ARM Investments (ARMI) advises investors to independently evaluate particular investments and strategies, and seek the advice of a financial advisor or wealth manager. The appropriateness of a particular investment or strategy will depend on an investor's individual circumstances and objectives.