Long-term business performance comes from a carefully cultivated leadership culture at all levels whether investor, executive, or anyone striving to be brilliant at what they do; thereby, underscoring the connection between leadership and the bottom line. In research carried out by Forbes, a substantial database of some 500,000 feedback instruments (commonly called 360-degree feedback reports) that pertain to approximately 50,000 managers was analysed. The reasoning being that opinions on the effectiveness of a leader are best drawn from those who are led.
Through this study commissioned by a division of a Fortune 500 commercial bank, Forbes discovered compelling evidence of the dramatic effect of leadership effectiveness on net income. The graph below shows the impact of extraordinary leaders on the bottom line of the organisation.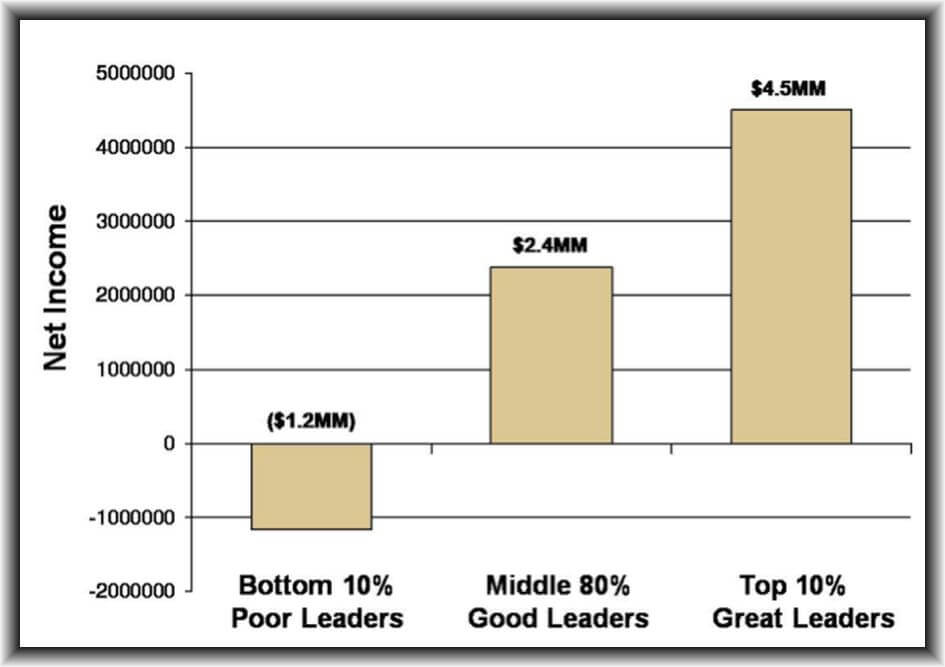 In this article, we highlight the merits of transformational leadership (leaders who inspire people to perform at a higher level and thereby increase organisational productivity and profits), as well as feature first-class global institutions that help hone extraordinary management skills, through Executive Leadership programmes.
Everyone respects Akin Ladejo. His core staff members are high performers, loyal, and extremely successful – as individuals, and as a team. By contrast, competitors in the same industry report that their people seem disengaged. They experiencehigh staff turnover, and their results are sub-par. What Akin gets right that others don't is that he's a transformational leader.
What is transformational leadership?
Transformational leadership is a style in which leaders encourage, inspire and motivate employees to innovate and create change that will help grow and shape the future success of the company. This is accomplished by setting an example at the Executive level, through a strong sense of corporate culture, employee ownership, and independence in the workplace.
Transformational leadership is the exact opposite of transactional leadership, which is rooted in keeping things consistent and predictable over time. Errors and faults are closely investigated, and the overall goal is to create efficient, routine procedures. This model does not try to innovate. Transactional leadership creates a consistent development process, while transformational leadership leaves people free to come up with new ideas and look at the future of products, services and ideas.
The Harvard Business Review's 'Transformation 10' world ranking lists the most exceptional transformational leaders in recent times: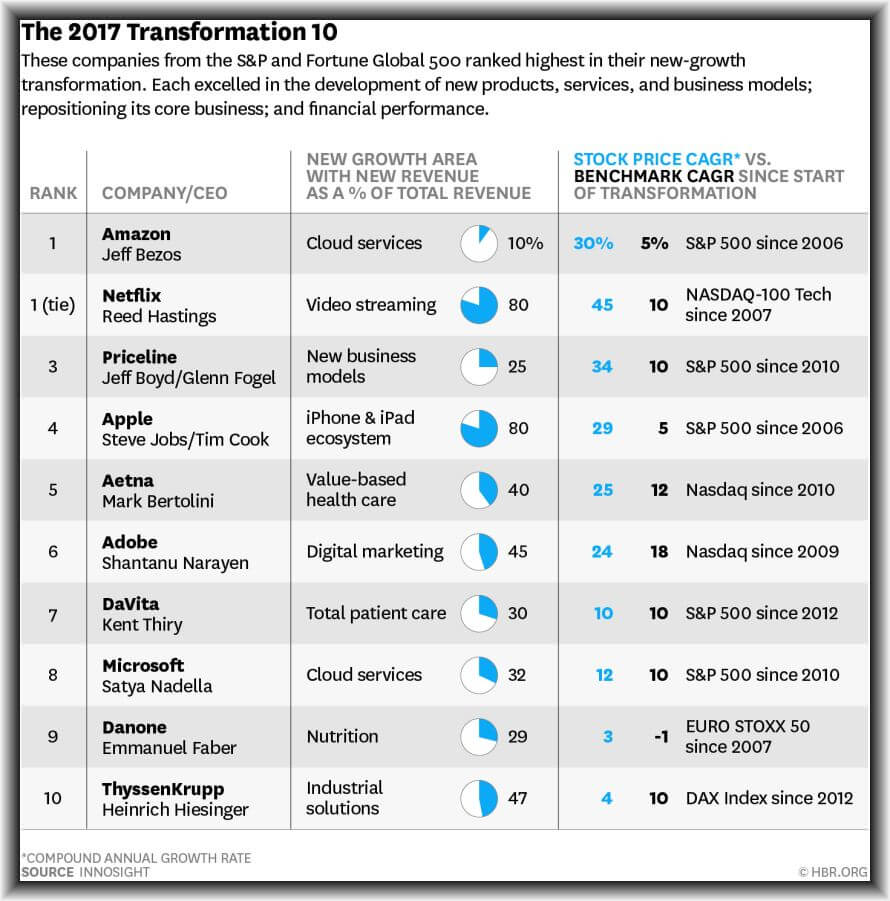 This list is considered more credible than most as it looks at the long-term performance of the CEO during his or her time on the job – with many on the list in service for more than a decade.
Case Study
WHAT THE 'GREATS' DO
In his 1985 book, "Leadership and Performance Beyond Expectations," Bernard M. Bass documents the traits of the exceptional (transformational) leader as someone who: has integrity and leads by example, stimulates people intellectually, sets clear goals, has high expectations, provides support and recognition, inspires people with a compelling vision of the future, and encourages them to reach for the improbable. More than 33 years after Bass' book, transformational leadership is often argued to be one of the most important ideas in business leadership.
Charismatically driving a team to push the boundaries of what's possible – and significantly altering the online retail arena while at it – it's easy to see why Amazon CEO, Jeff Bezos, sits atop the transformational leadership mould:
He started out as an online retailer of books that were unavailable at the local bookstore, and in the process drove into bankruptcy such large booksellers as B.Dalton and Borders. It also left Barnes & Noble a mere shell of its former self
Amazon was one of the first, and by most users considered the best, at offering a complete online storefront for any retailer who wants to sell goods through Amazon's site, offering consumers a new approach to retail;
As digital applications grew, Amazon moved beyond their slow-paced publishers to launch the Kindle and release eReaders, which displaced hard copy books;
Next, Amazon launched Kindle Fire, which at very low cost gives people a tablet already set up for doing retail shopping at Amazon. For all intents and purposes, this was a traditional bricks-and-mortar killer;
Shortly after, Amazon built its own cloud services business to help businesses and people use their tablets in doing more things online, further dominating its space. Established as a separate division in 2006, Amazon Web Services (AWS) ultimately addressed a long-standing analyst complaint about Amazon — that its core was only barely profitable. Today AWS accounts for just 10% of Amazon's $150 billion in revenue but generates close to $1 billion in quarterly operating profit.
Bezos says the Summer holidays spent fiddling with ranch equipment at his grandparents' is responsible for attachment to experimentation. It is this continuous habit at trialling that has helped Amazon gain — and maintains — its reign as the largest and most successful Internet retail company in the world.
The Amazon CEO also credits a ruthless adherence to the following 14 principles for his success at transformational leadership: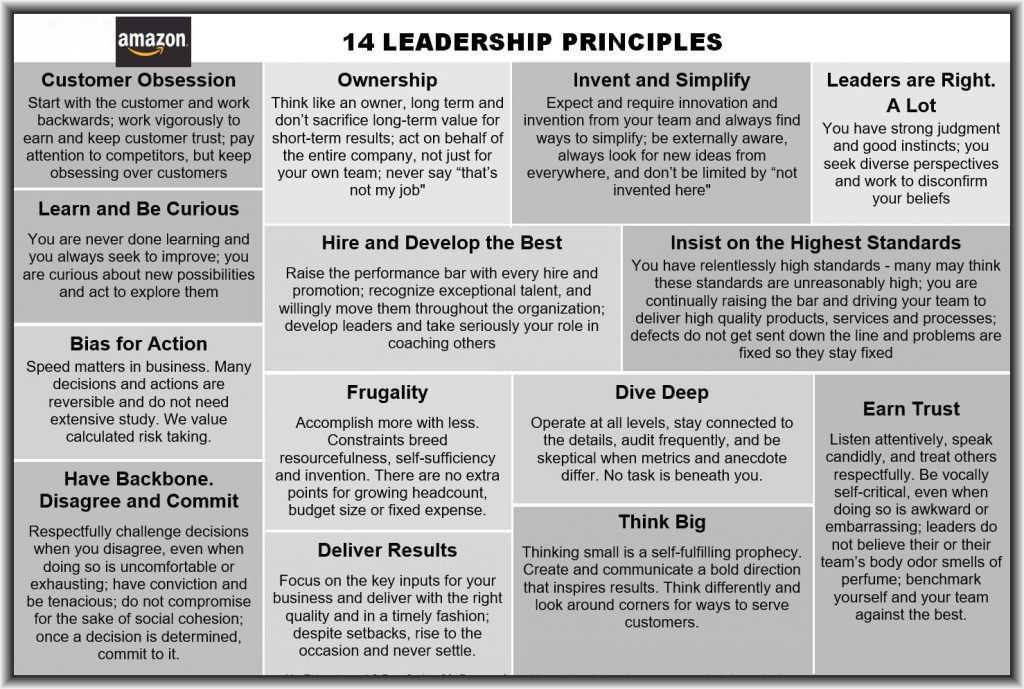 Acquiring Skills
EXECUTIVE EDUCATION
How can leaders acquire Bezos-like high-performance skills? The answer lies in innovative executive development programmes designed to help seasoned executives transform their thinking and vision in a dynamic local and global environment – and succeed in a sustainable manner. The 2017 FT Executive Education Rankings include the best 85 customised programmes for executive leadership, worldwide. We feature the top 10 below.
FT Executive Education Rankings 2017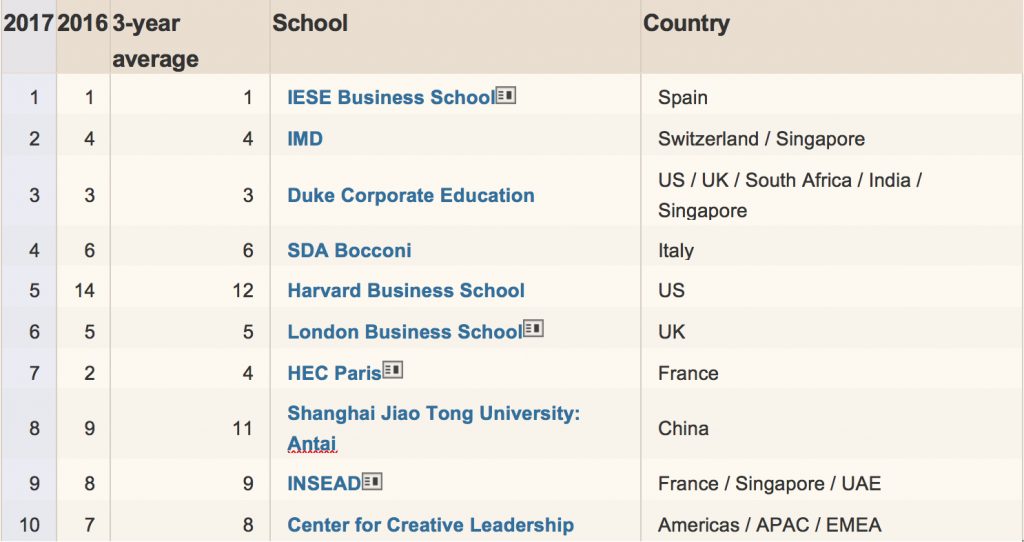 ---