TACKLING TALENT
It sounds familiar: "Your workers are your biggest asset". Not only are they critical to the day-to-day operations of a business, but they are also the organisation's biggest competitive advantage. In a highly competitive market, it becomes crucial to ensure that the best workers on staff are as productive as possible, in order to stay profitable.
Although companies constantly adjust their business strategy – the markets in which they compete, the products offered, and the customers they serve – decisions about hiring and developing the talent needed to carry out these plans can frequently be unconnected.
Herein lies the problem: Many C-suite leaders still approach workforce planning as an annual exercise in which personnel spending is managed as a cost, without considering the skills or talent needed to meet business objectives. Human Resource (HR) and business units also have little insight into whether the number of employees they have, or their capabilities, are sufficient to achieve revenue and other goals.
This article on Workforce management (WFM) explores the well-developed systems for managing and motivating high-performance and high-potential employees, while also highlighting leading global brands that have devoted so much energy in recent years to identifying, developing, and retaining what has come to be known as "A players".
In closing, attention is also drawn to the best-selling book, The Differentiated Workforce, in which the authors recommend that companies manage their workforce like a portfolio – with disproportionate investments in the jobs (and employees) that create the most wealth.
Strategic Logic:  ADJUSTING TO COMPETE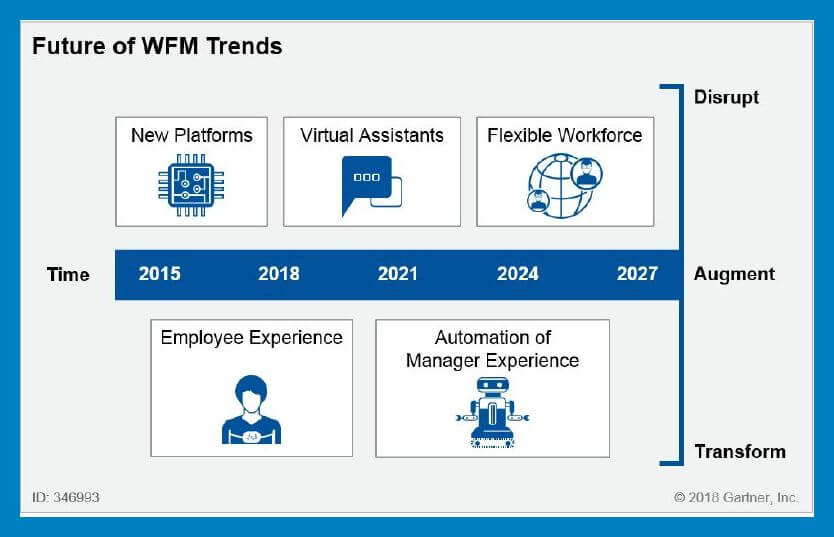 In a cut-throat competitive environment, companies are being forced to rethink the talent they will need to play business-critical roles — that is, the jobs that are central to differentiating a company from its competitors
This is where Workforce Management (WFM) comes in.  In essence, WFM refers to a set of technologies, processes, and procedures that help assign the right employees with the right skills, to execute the right job. Workforce planning is ultimately about ensuring a company has the talent required to deliver on its business goals.
The latest generation of WFM applications include capabilities and features that can augment, transform and disrupt most industries. These capabilities include:
·         Automation of manager experience — A set of capabilities that automates the decision process
originally completed by a manager or supervisor.
·         Employee experience— A new set of capabilities designed to enhance the employee experience
including, but not limited to, scheduling flexibility and preferences, communications, learning,
assessments, rewards and recognition, surveys, and collaboration.
·         Flexible workforce — The ability to support both employees and contingent workers on the same
application.
·         Virtual assistants (VAs) — A personable, semi-intelligent interface allowing users to interact with the application via bidirectional voice or text commands.
·         New platforms— Applications built on cloud-first platforms with the latest architecture and more robust frameworks for developing and managing Application programming interfaces (APIs).
Some of the leading vendors in the global Workforce Management software market include SAP, Oracle, ADP and Kronos
One step ahead: 
LEADING COMPANIES ARE MATCHING 'A PLAYERS WITH 'A POSITIONS'
Technology (digital transformation, the industrial internet, advanced analytics, artificial intelligence, robotics, machine learning) is fundamentally changing the nature of the workforce. Beyond determining what skills are required to perform specific jobs, technology will also define which jobs matter most in the years to come. The best-performing companies are already taking steps to attract new talent and widen their lead over rivals. Here are three lessons every organisation should learn from what the leading companies are doing:
1         Delineate the skills and capabilities that will be required to win in the future, based on your company's strategy
When Bain & Company examined the talent management practices of more than 300 large companies worldwide, it was discovered that the most productive and best-performing organisations cluster their star talent in a few business-critical roles. This "intentionally non-egalitarian" model ensures that scarce difference-making talent is put in roles where it will have the biggest effect.
2         Objectively assess the current skills and capabilities of your workforce to identify gaps
Once your organisation understands the roles that will be most critical to winning, as well as the skills and capabilities required to be a star in these roles, it is important to examine the current skills and capabilities of your workforce. How many employees are capable of being stars in the business-critical roles of tomorrow? Does your company have a sufficient supply of star talent to win? The best companies audit the current skills and capabilities of their workforces carefully in order to identify any gaps they may face.
General Electric has been particularly forward-thinking regarding the new skills it will need to be successful over the long term. The company's embrace of the industrial Internet has greatly affected many of its core businesses. Sensors on locomotive and jet engines, for example, generate data that can be used to predict the degradation of parts — saving GE customers billions on maintenance and lost operating hours. Harnessing this data requires new skills and capabilities. In 2012, when Jeff Immelt first introduced GE's push into the industrial Internet, the company had 50,000 engineers in its workforce — mostly aeronautical, electrical, and other traditional engineers. The company had very few software engineers. Yet software engineering skills are key to GE's future. By recognising this critical gap early, GE has been able to develop strategies to close it systematically, over time.
3         Develop and acquire the talent you need to close any gaps, starting today
Assembling a talented workforce is very much like ageing wine—unless you cellar something today, it will be very hard to have something worth drinking in the future. The best companies work hard to match their hiring and talent development strategies with their future workforce needs.
At Ford Motor Company, building world-class software engineering capabilities has become a strategic imperative. Car manufacturers are facing new competitive threats from the likes of Google, Uber, Tesla and dozens of start-ups. And a new ecosystem of finance, insurance, energy, infotainment and maintenance services has emerged based on the data-driven, app economy. In response, Ford established an entirely new business unit—Ford Smart Mobility—where most of the company's software engineers reside.
Building world-class software is not a core competence for most automakers. Accordingly, Ford Smart Mobility has partnered with Microsoft and Pivotal (a Dell Technologies portfolio company) to bring new digital skills to the company. And Ford has located its Smart Mobility unit in Palo Alto, California—just minutes away from Stanford University—in order to have better access to software engineering talent. These steps (and others) are all part of the company's plan to "quickly add new state-of-the-art software engineering capabilities across the Ford enterprise."
Difference-making talent is a company's scarcest resource. Given the time it takes to attract and develop star talent, it is critical that companies start building the workforce they will need – today.
Recommended Reading: PLAN AHEAD. PLACE BETS EARLY
Do you think of your company's talent as an investment to be managed like a portfolio? If you're interested in strategy execution, you should – according to authors of The Differentiated Workforce (Brian E. Becker, Mark A. Huselid, and Richard W. Beatty).
Based on two decades of academic research and experience working with hundreds of executives, The Differentiated Workforce gives you the tools to translate your organisation's talent into strategic impact.
The book provides a detailed guide on:
Rising above talent management "best practice" and instead creating a differentiated workforce that cannot be easily copied by competitors
Differentiating those capabilities in your company that are truly strategic
Identifying your wealth-creating "A" positions and personnel
Creating a new relationship between HR and line managers, and articulating the role each plays in a differentiated workforce strategy
CONCLUSION
While conventional wisdom might argue that the firms with the most talent win, the more effective plan is that, given the financial and managerial resources needed to attract, select, develop, and retain high performers, companies simply can't afford to have 'A players' in all positions. Rather, it is firms with the right talent that win. Businesses need to adopt a portfolio approach to workforce management, placing the very best employees in strategic positions, good performers in support positions, and eliminating non-performing employees and jobs that don't add value.
*Disclosures: This material does not provide individually tailored investment advice. It has been prepared without regard to the individual financial circumstances and objectives of persons who receive it. ARM Investments (ARMI) advises investors to independently evaluate particular investments and strategies, and seek the advice of a financial advisor or wealth manager. The appropriateness of a particular investment or strategy will depend on an investor's individual circumstances and objectives.
 *For financial or wealth management advice, please contact ARM Investment Managers:
www.arminvestmentmanagers.com  | wealthadvisor@arm.com.ng |