Enriching Lives for Generations
The recent Hollywood cash-for-admissions scandal shows how excellent schools are considered so precious that parents will risk huge fines and even jail sentences to get their wards enrolled. The premise for 'cheating-and-entry' is certainly wrong, but underscores the value placed on top notch education.
Each year, when international university rankings come out, there is usually a gnashing of teeth on two sides – both school and student.
Competition among universities is fierce, with each one using elements of the ratings as a measure of their success, and as a marketing tool. They tout the rankings as an indication of the quality of their faculty and the student body.
For parents and students, rankings may seem scientific, but the anxiety to attain a perfect 'student-course-institution-future employment predictor' fit persists.
This article provides a holistic view of what a successful university could be, in two ways:
Rankings, based on university core missions of teaching, research, and knowledge transfer;
Rankings, based on the opinions of students themselves, which reveal what attractive factors global cities offer – in addition to top academics – such as the best experience for students, based on factors including affordability and desirability.
It also presents the following decisive information that help ensure the best chance of success for both future student and anyone intending to fund tertiary education:
Cost estimates: Average cost of tuition across a few global institutions, as a guide to start piecing together an investment plan;
Finance: Savings, investments, insurance, and scholarship options available to families, for whom the major expense of a university education could suddenly become a tall order if the unexpected happens;
Technology: a roundup of the best Massive Online Open Course platforms, which offer access to exceptional quality knowledge that can help millions of potential students acquire first-rate competitive advantage, not just for admissions, but also to up-skill and re-skill, post-graduation.
Is an overseas (or well-rounded) education really worth it? Well, just last month (March 2019), UK ministers launched their post-Brexit international education strategy, with an attempt to woo overseas students by extending the length of post-study work visas. Students who, incidentally, when they stay behind to work in the UK, earn 50% more than their British (and EU) counterparts. That's how this piece concludes. 
Hotlist: The usual Top 10
The 2019 Times Higher Education World University Rankings include more than 1,250 universities (across 86 countries), judging research-intensive universities across all of their core missions: teaching, research, knowledge transfer, and international outlook. The rankings have been audited by professional services company, PricewaterhouseCoopers (PwC), which, according to The Times, makes them the only global university grading to be subjected to fullest, most independent scrutiny. The 2019 top 10 are the usual suspects, except for the only newcomer, Yale University sliding in at position 8 (up from 12 last year). Switzerland's ETH Zurich dropped to 11th place, from its #10 spot in 2018.
2019 WORLD UNIVERSITY RANKINGS
RANK

INSTITUTION & APPROXIMATE FEES

# OF FULL TIME EQUIVALENCY (FTE) STUDENTS

# OF STUDENTS PER STAFF

INTERNATIONAL STUDENTS

FEMALE-MALE RATIO

1

UNIVERSITY OF OXFORD

United Kingdom

20,298

11.0

40%

46 : 54

2

UNIVERISTY OF CAMBRIDGE

United Kingdom

18,749

10.9

37%

46.54

3

STANFORD UNIVERSITY

United States

15,878

7.4

23%

43 : 57

4

MASSACHUSETTS INSTITUTE OF TECHNOLOGY

United States

11,231

8.7

34%

38 : 62

5

CALIFORNIA INSTITUTE OF TECHNOLOGY

United States

2,255

6.5%

29%

33 : 67

6

HARVARD UNIVERSITY

United States

20,595

9.1

26%

48 : 52

7

PRINCETON UNIVERSITY

United States

7,996

8.2

24%

45 : 55

8

YALE UNIVERSITY

United States

12,318

5.2

20%

50 : 50

9

IMPERIAL COLLEGE LONDON

United Kingdom

16,425

11.7

56%

38 : 62

10

UNIVERSITY OF CHICAGO

United States

13,562

6.1

25%

44 : 56
The Alternative Rankings: Best Student University Cities 2019
Global university rankings based mostly on academics are not the only criteria that students put at the forefront when selecting the ideal institution of higher learning. Scholarships, country friendliness, experiencing a new culture, affordable living, employment prospects, widening professional networks – all these factors are universally acknowledged as essential to the student experience. Analysing a   survey of over 20,000 international students, as well as feedback from a community of meaningful travellers, program administrators, and international education experts, the list below reveals some of the major cities rated by international students as the most attractive for 2019:
LOCATION, FAST FACTS

ATTRACTION

AFRICA

Cape Town, South Africa

..

Highest-ranked institution

University of Cape Town (ranked joint 200 in the world)

Population

433,688 in city proper, 3.75 million in metro area

Average international fees

(at ranked universities)

 US$6,000

The legislative capital and second-largest city in South Africa, Cape Town is one of Africa's most beautiful, historical and multicultural places, with the majestic Table Mountain (its most famous landmark), dominating the horizon at 1,085m above sea level. The QS World University Rankings® 2019 features nine South African universities, with the highest international ranking position claimed by the University of Cape Town (joint 200th); the University of the Witwatersrand (joint 381st); and by Stellenbosch University (joint 405th).

ASIA

Seoul, South Korea

..

Highest-ranked institution

Seoul National University (joint 36th in the world)

Population

25,000,000

Average international fees

US$6,500

Long since labelled as an up-and-coming destination, South Korea's capital, Seoul, is home to a high concentration of universities renowned for their expert research departments and high achievers. The city has a "work hard, play hard" attitude. No fewer than 18 universities in Seoul are featured in the QS World University Rankings® 2019, of which the highest-ranked is Seoul National University, at joint 36th in the world.

AUSTRALIA

Melbourne, Australia

…

Highest-ranked institution

University of Melbourne (39th in the world)

Population

4,530,000

Average international fees

US$23,300

Known as Australia's cultural capital, Melbourne regularly tops lists for desirability, and is regularly ranked as one of the world's most liveable cities. The city's cultural calendar is packed year-round – spanning arts, comedy, music, film, fashion, and a host of multicultural celebrations. Seven universities in Melbourne are featured in the QS World University Rankings® 2019, the highest-ranked of which is the University of Melbourne at 39th in the world – second only to Australian National University (Canberra).
LOCATION, FAST FACTS

ATTRACTION

 

EUROPE

Edinburgh, Scotland

 

…

 

Highest-ranked institution

University of Edinburgh (joint 18th)

 

Population (including wider metropolitan area)

1,339,000

 

Average international fees

US$28,000

With a relatively small population, 36 percent of students at ranked universities in Edinburgh are international, providing a diverse and inclusive atmosphere. Known for its striking castle, historic old town and massive annual events such as the Edinburgh International Festival and New Year's Hogmanay street party, the city is also home to several of the best universities in the UK. The University of Edinburgh is ranked joint 18th in the QS World University Rankings® 2019 – the joint-fifth-highest UK entry.

 

EUROPE

Zurich, Switzerland

…

 

Highest-ranked institution

ETH Zurich (7th in the world)

 

Population

1,900,000

 

Average international fees

US$1,900

 

Switzerland's low university fees for international students help to offset the high costs of rent and socializing in Zurich. Its close proximity to natural landmarks, including Lake Zurich and the Swiss Alps, means students can enjoy a spot of nature while staying in a major European city. Inside the classroom, critical thinking, interactive learning and active debating will be at the core of learning, supplying students with skills that take them far in whichever career they choose.

 

 

NORTH AMERICA

Montréal, Canada

…

 

Highest-ranked institution

McGill University (33rd in the world)

 

Population

4,127,000

 

Average international fees

US$13,200

 

As the world's most educated country, Canada proudly features top universities and rates impressively for teaching quality and career goals. The country is also known for its diversity, inclusive values, and a high standard of living. The city of Montréal is multicultural, multilingual and widely referred to as Canada's "cultural capital", and is home to several of Canada's highest-ranking institutions, including McGill University (currently ranked 33rd in the world, and second in Canada) and the Université de Montréal (149th in the world, fifth in Canada).

 
* All fees refer to averages for ranked universities
Financial Wellness: Funding The Future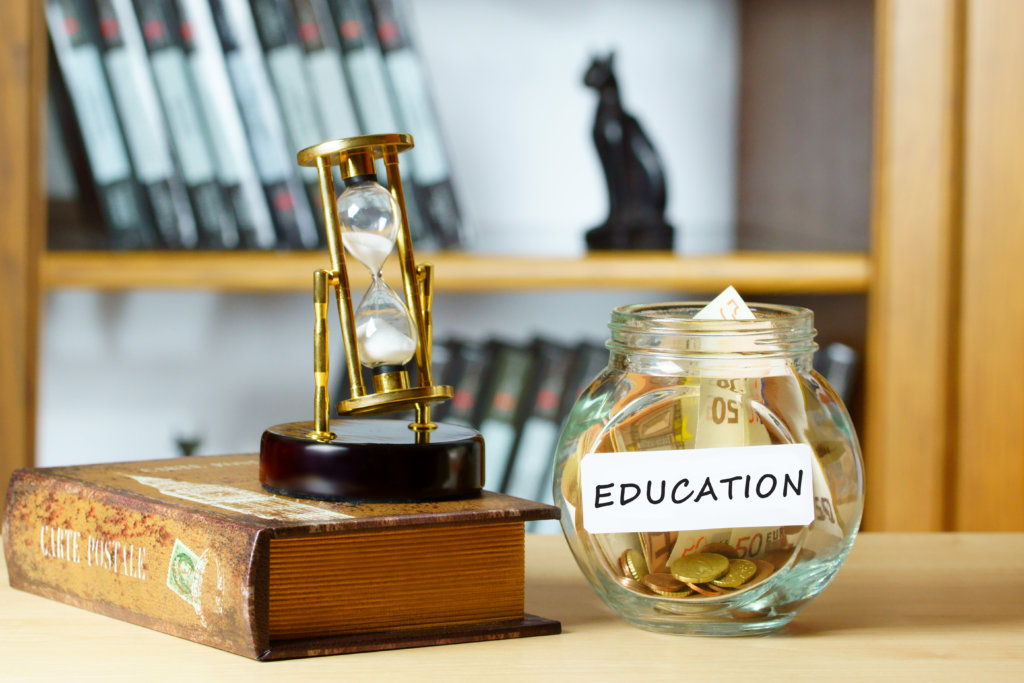 Your children are your legacy. And you want them to be well equipped for the challenges ahead. With the cost of university education surpassing inflation, having a higher education savings plan in place makes it easier to reach financial goals for funding university. This is where a sound financial plan comes in:
MUTUAL FUNDS: Mutual funds offer investors an opportunity to maintain a diversified investment portfolio that helps cushion risk and maximise returns. As the table below shows, the Money Market Funds (MMF) subset (whose instruments include Treasury Bills, Commercial Papers, Certificates of Deposit, and Banker's Acceptances) are a favourite investment vehicle. While preserving capital, generating a steady income stream, and offering some tax relief, MMFs deliver higher interest rates than a regular savings account, with current yields of T-Bills, for example, hitting up to 13.56% per annum.
 

MUTUAL FUNDS CATEGORISATION BY UNDERLYING ASSETS (April 18, 2019)

 

Fund Type Amount

NGN Billion

Amount

NGN Billion

 

Contributions

MONEY MARKET FUNDS

554.99

 

71.5%

FIXED INCOME FUNDS

70.44

9.1%

ETHICAL FUNDS

51.22

 6.6%

REAL ESTATE FUNDS

45.22

 5.8%

MIXED FUNDS

24.73

3.2%

BOND FUNDS 17.46 2%

17.46

2.3%

EQUITY BASED FUNDS

11.79

1.5%

 

TOTAL

 

775.85

 

100%
Source: Numeris research, Securities and Exchange Commission (SEC)
Mutual fund assets in Nigeria have risen considerably in the 2014–2019 period, which shows increasing interest in this asset class. Data from Nigeria's Securities and Exchange Commission (SEC) on the Net Asset Value (NAV) of all registered mutual funds indicates that total NAV grew by 328% between April 2014 and April 2019 – translating to a Compound Annual Growth Rate (CAGR) of 34% over the five-year period.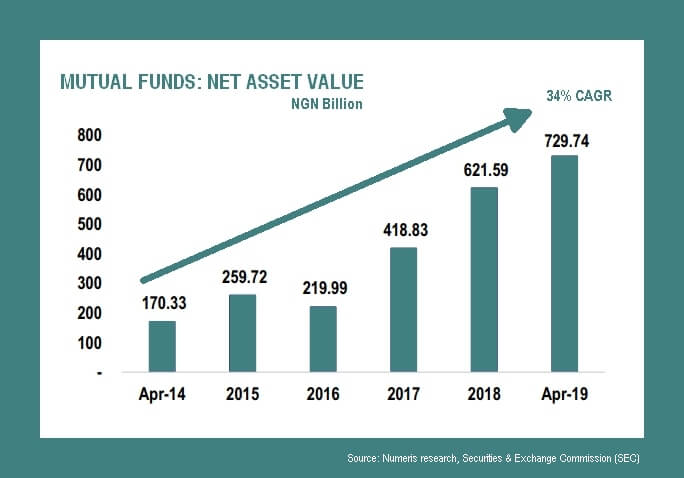 INSURANCE: What if something happens to you? Will your offspring still be able take advantage of their unique opportunities for education? How would your family cope financially? Are you covered for every possibility? Ask yourself these questions, and then act decisively by taking out insurance protection for your child, and life insurance for yourself.
PRESTIGIOUS SCHOLARSHIPS: Scholarships can be a useful complement to a savings plan. The MasterCard Foundation Scholars Program for Africa (MCFSPA) offers to educate and develop academically qualified young people in Africa who will contribute to the transformation of the continent. This $500 million program will provide students with the knowledge and leadership skills needed to contribute to economic and social progress across Africa.  Scholars receive premium financial support via partner universities for fees, books and supplies, transportation, accommodation, and stipends. Some of the participating universities include: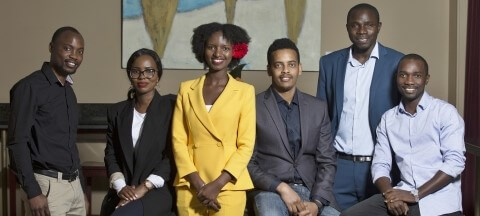 Unlocking Early: Preparing for University
Last but not least, explore the best education options for your child by observing their inclinations, and researching the type of university/ course that will nurture it. Massive Open Online Courses (MOOCs) are providing access to world-class education to anyone with an internet connection. Prospective students (undergraduate, post-graduate) can now take a MOOC, which allows them determine the career path is right for them.  MOOCs are free for practising, and are provided on the following platforms, which have been ranked for offering the highest quality courses and teachers, the widest variety of courses, and the most specialisations:
Top 3 MOOC Platforms 2018
| | | |
| --- | --- | --- |
| Rank | Site | Score (out of 10) |
| 1 | Coursera  [coursera.org] | 8.8 |
| 2 | edX  [www.edx.org] | 7.4 |
| 3 | FutureLearn  [futurelearn.com] | 6.4 |
What is the fuss about international education? In 2008, leading recruitment agency in Malaysia, Jobstreet.com conducted a study of more than 100,000 of its graduate (and now working) members in-country. It discovered that graduates from overseas universities on average earned about 12 percent more than local graduates. "The salary gap is most apparent among those with up to five years of work experience. Overseas graduates are earning a significant 20 percent more than their local counterparts. Even after 10 years or more of work experience, the gap is still more than 10 percent," the report stated.
A 2017 study by Beijing-based big-data recruitment firm BossZhipin shows the exact same experience for Chinese citizens who have studied abroad and returned home to work.
In a more recent (2019) twist: Foreign students who graduate from a UK university go on to earn up to 50 per cent more than their British classmates, a report published by the Higher Education Policy Institute (HEPI) has found.
Maths graduates from the UK earn an average of £33,100 five years after they complete their degree, while their peers from outside of Europe earn £48,600. Meanwhile, Economics graduates earn an average of £37,900 after five years if they are from Britain compared to £45,700 if they are from overseas. In both subjects, students from other European Union (EU) countries earn more than their British classmates but less than those from outside the EU.
According to Nick Hillman, director of HEPI, students who come from overseas to study in the UK are simply more aspirational, hard-working and ambitious – and tend to get jobs in the UK, typically in sectors that suffer from acute skills shortages.
The fuss, it seems, is justified.
*Disclosures: This material does not provide individually tailored investment advice. It has been prepared without regard to the individual financial circumstances and objectives of persons who receive it. ARM Investments (ARMI) advises investors to independently evaluate particular investments and strategies, and seek the advice of a financial advisor or wealth manager. The appropriateness of a particular investment or strategy will depend on an investor's individual circumstances and objectives.