Education is clearly one of the key industries being disrupted by technology.
The 'Fourth Industrial Revolution' will witness an escalation in workforce automation, with the Organisation for Economic Co-operation and Development (OECD) approximating that, over the next 10 to 20 years, "14 percent of jobs are at high risk of being fully automated, while another 32 percent at risk of significant change".
It is therefore crucial for education systems to immediately begin to equip students with the right skills to navigate the changing landscape.
In addition to suggesting ways of planning for the increasingly high cost of top quality education, this article serves up two different approaches for gauging how well students master key subjects in order to be prepared for real-life opportunities in the adult world:
·       The Programme for International Student Assessment (PISA) – an OECD programme which, every three years, tests 15-year-old students from all over the world in reading, mathematics and science; and
·       The Centre on International Education Benchmarking (CIEB), which provides information about, and analysis of the education systems in top performing countries around the world.
Singapore, Hong Kong: The Top Test-Takers
Expert reactions: This table is self-explicit. Singapore's education system is internationally acclaimed as being among the best in the world, and it has consistently led international rankings.  The OECD's Programme for International Student Assessment (PISA) estimates that Singaporean pupils are nearly three years ahead of their American peers in maths. However, Singapore is not developing young innovators but, rather, good test-takers. Students sitting for examinations today will find themselves unprepared for future jobs. As new technologies continue to disrupt traditional industries, the workforce of the future needs to be creative, innovative, and adaptable.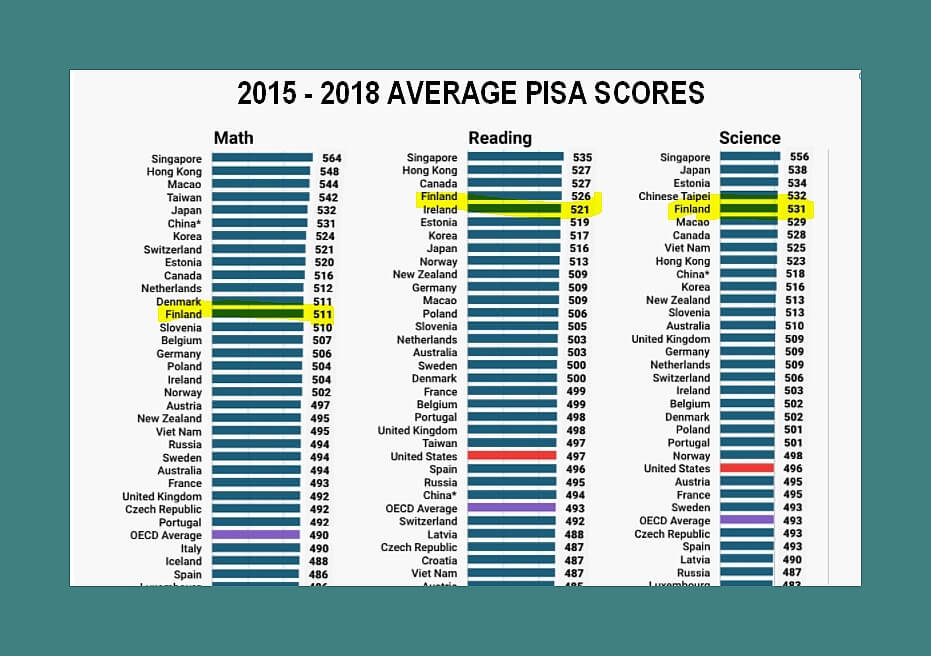 Canada, Finland: Leading All-Rounders
While there are many different theories on what and how secondary school students should learn, the Centre on International Education Benchmarking (CIEB) has further identified a sub-list of top-performing countries, based not just on test-taking ability, but on educational systems that are most likely to produce all-rounders.
COUNTRY

DIFFERENTIATION

COUNTRY

DIFFERENTIATION

 

1- CANADA, due to a wide series of reforms in the past two decades, has emerged as an educational leader in international assessment rankings. Learn more about how increased teacher autonomy and targeted policy directives changed the way Canadian students learn.

 

 

7- ESTONIA emerged as a top performer on PISA 2012 — a remarkable achievement for a country that only gained independence in 1992. Find out how changing Estonia's education system contributed to the economic development of the whole country.

 

 

2- FINLAND's education system is widely acknowledged as one of the best in the world. Click here to see how world-class teacher training drives success in this Nordic country.

 

 

8- GERMANY's shocking underperformance on PISA 2000, led the country to implement a set of system-wide reforms which have allowed it to rise through the international ranks to the top tier of performance on the 2015 round of PISA.

 

3- HONG KONG, driven by a diverse population with ever-changing needs, has refocused its education system to mesh with its international economic goals. Explore the policies that pushed them to the top.

 

9- JAPAN's students work harder and learn more than students in almost any other country. Discover how Japan has relieved student pressure without decreasing student performance.

 

4. THE NETHERLANDS provides multiple educational pathways in vocational and general education to ensure that its graduates can meet workforce needs. 

 

 

10- NEW ZEALAND is a leader in early childhood support and has a robust national qualifications system for secondary education and beyond. Read more about their programmes and initiatives.

 

 

5- SHANGHAI-CHINA's students topped the international rankings their first time out of the gate in 2009, and managed to improve on that performance in 2012. Discover how this education-driven city taught its students to be so successful.

 

11- SINGAPORE, a tiny island nation, built a world-class national education system from scratch. Explore how their Ministry of Education is promoting 21st-century education for all.

 

6- SOUTH KOREA's education system underwent a series of rapid changes in the second half of the 20th century resulting in a comprehensive school system and a 70% increase in adult literacy. Find out what this world leader is doing now.

 

 

12- TAIWAN has consistently ranked highly on PISA in math and science, and in 2012 Taiwan's reading performance improved dramatically to rank 7th place overall. Read more about the programmes and initiatives that led to this improvement.
Source: Numeris research, NCEE
Sample List: Top Three Secondary Schools In Canada
SCHOOL NAME

REGION

CITY

2017-2018 RANKING

2017-2018 RATING

Havergal

Ontario

Toronto

1/738

10.0

 

Little Flower

British Columbia

Vancouver

1/251

10.0

Old Scona

Alberta

Edmonton

1/262

10.0

Jean-de-Brébeuf

 

Québec  

Montréal

1/452

10.0
Source: https://www.fraserinstitute.org/school-performance
Covering the exceptionally high cost of secondary school education – home or abroad – can seem daunting, particularly if you wish to sponsor more than one child. Whether starting the planning process early or a little closer to school commencing, speak to your financial advisor about options for putting your children through college. These can include:
Mutual Funds and/ or

A Life Insurance education plan
A key takeaway: While putting your child's wellbeing above your own is noble and understandable, ensure that your own retirement savings are not sacrificed to fund education.
*Disclosures: This material does not provide individually tailored investment advice. It has been prepared without regard to the individual financial circumstances and objectives of persons who receive it. ARM Investments (ARMI) advises investors to independently evaluate particular investments and strategies, and seek the advice of a financial advisor or wealth manager. The appropriateness of a particular investment or strategy will depend on an investor's individual circumstances and objectives.