THE ART OF WORKING FROM HOME
Thanks to the coronavirus pandemic and the new normal of working remotely, executives at all levels are forced to set up shop at home, while staying productive to reach core business goals.
There is an art to working from home, and it hinges on diligence without distraction. The modern home-office is dynamic. Yet, few people think of the impact that workspace ergonomics (scientific design methods for optimising human wellbeing and overall system performance) can have on productivity.
The new challenge of working from home centres as much around breathtaking design as it does on the widespread presence of ergonomic risk factors — awkward postures, excessive force, and high task repetition — that could progress into more detrimental conditions, such as musculoskeletal disorders'
This article weighs in on the intuitive opportunities for linking design and performance, and what you should know about setting up the best (most ergonomic) and most visually appealing office in a home.
Design, Cognitive & Ergonomic Factors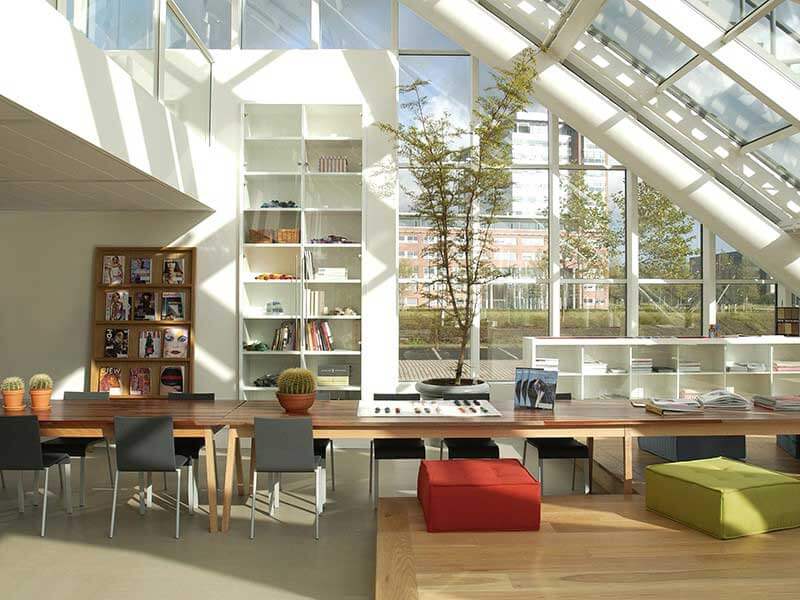 Interior Architect, Sevil Peach , designed the International Design Centre for fashion brand Mexx (Amsterdam), to incorporate greenery, thereby creating a seamless link to the exterior space. Image © Sevil Peach
The reason we are all working from home in the first place is for our health and well-being. Suggestions for achieving a winning combination of visual, cognitive and physical well-being include:

BIOPHILIC DESIGN – an approach to architecture that seeks to connect building occupants more closely to nature – promotes engaging with natural materials and organic patterns, while allowing views to the outdoors and natural daylight to boost energy, increase productivity, and promote alertness. Adequate lighting prevents eye fatigue.

A bespoke home-office designed by Thomas Griem of luxury Interior Architecture & Design Studio, TG-Studio for a space that naturally flows from the lounge. To minimise clutter and preserve elegance, storage space has been discreetly built into the walls
SPOHISTICATED STORAGE. Having the right home office storage can make your study space appear exquisite. To minimise clutter and preserve elegance, a key long-term plan is to have bespoke built-in storage. A foldaway desk or a built-in bookcase can elevate your home office into a permanently tidy and sleek space.
ERGONOMICS. Ergonomic considerations that help with positive physical well-being include:
• Your seat. Ensure proper back support. Adjust the height so your feet rest flat on the floor and your thighs are parallel to the floor. Many find that a footrest can help to achieve this posture. Adjust your chair's armrests so your forearm can rest on them with your shoulders relaxed.
• The desk. Under the desk, make sure there's clearance for your knees, thighs and feet. If the desk is either too high or low, raise or lower your chair accordingly. If your desk has a hard edge, pad the edge or use a wrist rest. Don't store items under your desk.
• THE 20/20/20 RULE – Every 20 minutes look up or away from your computer monitor and towards something that is 20 inches away for a total of 20 seconds. This can help reduce eye strain and promote focus.

The goal of the ancient Chinese practice of Feng Shui is to invite, via scientific calculations, positive energy (or chi) into your home so that your life feels both energised and balanced. Not every interior designer actively practices this art, but many may unwittingly abide by some of its principles—because oftentimes, Feng Shui is common sense as it pertains to the natural flow and clutter-free layout of your space. According to a few designers, including Feng Shui expert Laura Cerrano , these are two of many elements to consider:
POSITION YOUR DESK IN A COMMANDING POSITION. The so-called Feng Shui commanding position attracts stronger and more successful energies to your work area. It means you do not have your back to the door, nor face a wall while working at your desk. If you have to face the wall, use Feng Shui to make the wall "disappear" with smart use of art.
INSPIRING DÉCOR. Plan your home office with your success, well-being, and productivity in mind. Use specific images, inspirational colours, meaningful career keepsakes, and appropriate decor items that make you feel successful, appreciated, and happy. 
CONCLUSION
By focusing on our cognitive and physical well-being through proactive home office design, we can at least prevent one less element of uncertainty from happening amid these uncertain times.
*Disclosures: This material does not provide individually tailored investment advice. It has been prepared without regard to the individual financial circumstances and objectives of persons who receive it. ARM Investments (ARMI) advises investors to independently evaluate particular investments and strategies, and seek the advice of a financial advisor or wealth manager. The appropriateness of a particular investment or strategy will depend on an investor's individual circumstances and objectives.