A very rare bottle of 55-year-old Yamazaki Japanese single malt whisky dominates at auction, going for US$795,000 and setting a new world record
Dateline was August 2020. The most expensive bottle of Japanese whisky ever sold had just gone for almost US$1 million
Bonhams Hong Kong's Fine & Rare auction had listed the bottle of Yamazaki 55-year-old with a projected sale price of $75,000 to $106,000.
Instead, the oldest Japanese whisky of all time broke the glass ceiling to smithereens with a fetching sum of roughly $795,000.
Says auctioneer, Bonhams about the specially packaged whisky:
"Distilled to 46% ABV, it has a deep reddish amber [colour] with a complex agarwood and sandalwood nose, rich in fruity scents with a sweet aftertaste. The gold-dusted bottle is housed in a black Mizunara oak box with Suruga lacquer. The bottle mouth is wrapped in handmade Echizen Washi and tied with a traditional Kyoto braided cord."
The Yamazaki 55, distilled in 1960, spent four years in a mizunara cask before being transferred to a white oak cask in 1964, the year of the last Tokyo Olympics. Limited to 100 bottles, Yamazaki 55 was originally announced in January 2020. Its release was meant to commemorate the 2020 Tokyo Olympics, which was postponed due to the COVID-19 pandemic.
OBJECTS OF DESIRE: NO SLOWING DOWN
Although live auctions are slowly resuming after a long suspension due to the coronavirus pandemic, collectors have continued to acquire luxury collectables in multiple online auctions, while adhering to COVID-19 guidelines.
Even though prospective buyers are gradually getting more comfortable with the idea of purchasing pieces of pedigree without laying eyes on them, the 2020 Knight Frank Luxury Investment Index shows that collectors have stuck with investing their assets in very specific objects of desire. This is an overview: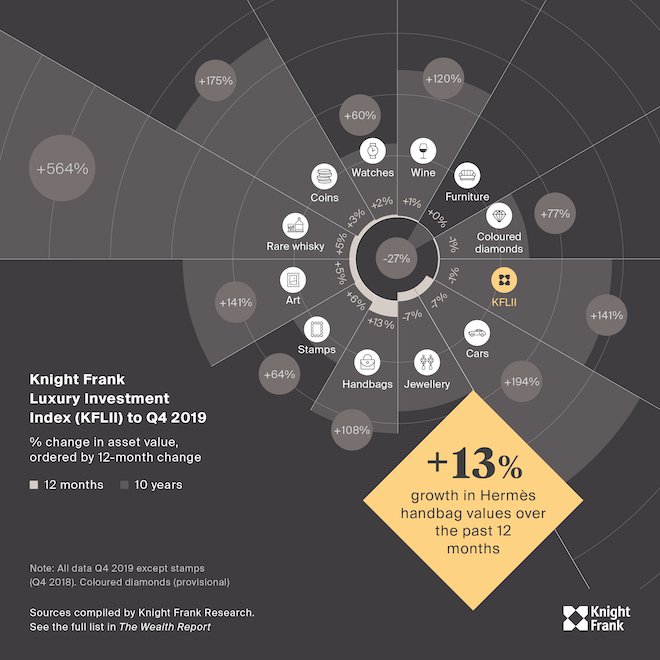 WHAT ARE THE MOST SOUGHT-AFTER ITEMS AT AUCTION?
The Knight Frank Wealth Report contains, as usual, some interesting insights into the mindset and investment trends of the global ultra high net worth (UHNW) community. In its 2020 Report, the Luxury Investment Index reveals the most coveted objects of desire, clearly showing that, over 12 months, rare whiskey has displaced classic cars to be the highest appreciable asset class. Here are highlights of some of the most expensive items at auctions: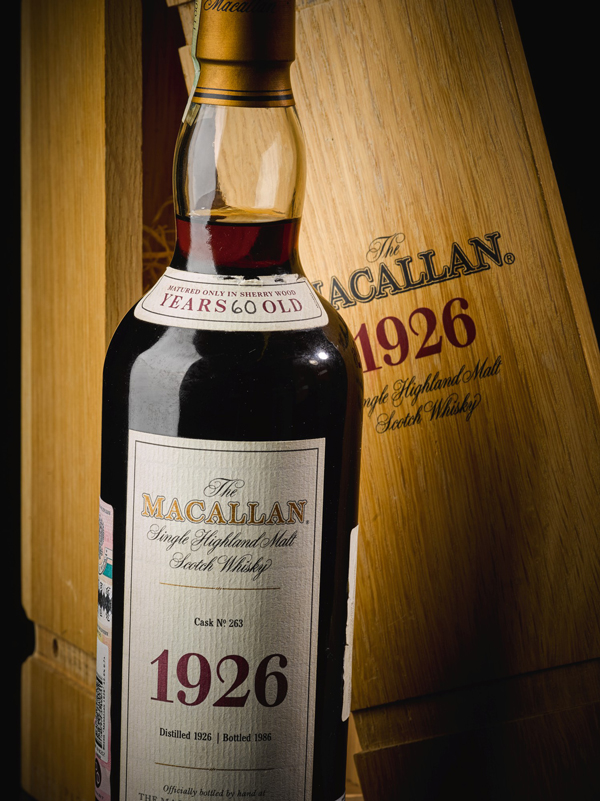 RARE WHISKY
The market for rare whiskies has grown in value the most over the last 10 years (+564%), notes Knight Frank Research, emphasising that collectors continue to seek out rare examples from iconic distilleries such as Lagavulin, Dalmore, Ardbeg, and Springbank.
While wine has lost some traction as an investment prospect (+1% in 2019), a bottle of 60-year-old Macallan whisky from 1926 set an auction record for any wine or spirit.
In October 2019, the rare bottle of Scotch whisky sold for a world record £1.5m at auction in London. The Macallan 1926 60-year-old single malt from cask number 263 had been estimated to sell for between £350,000 and £450,000!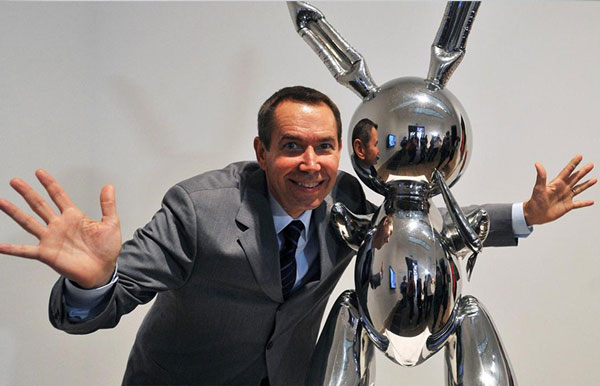 ART
The art market registered growth of 141% over the last 10 years, and a more modest 5% in the past 12 months.
The year 2019 was marked by records such as the $91 million sale of Jeff Koons' metallic sculpture of a balloon-animal, "Rabbit," sold for $91 million at Christie's – setting a record for a living artist at auction.
Last June, at Sotheby's marathon sale of Contemporary, Impressionist and Modern art, the nearly five-hour-long session was led by Francis Bacon's "Triptych Inspired by the Oresteia of Aeschylus" (1981), which went under the hammer for $84.5 million with fees.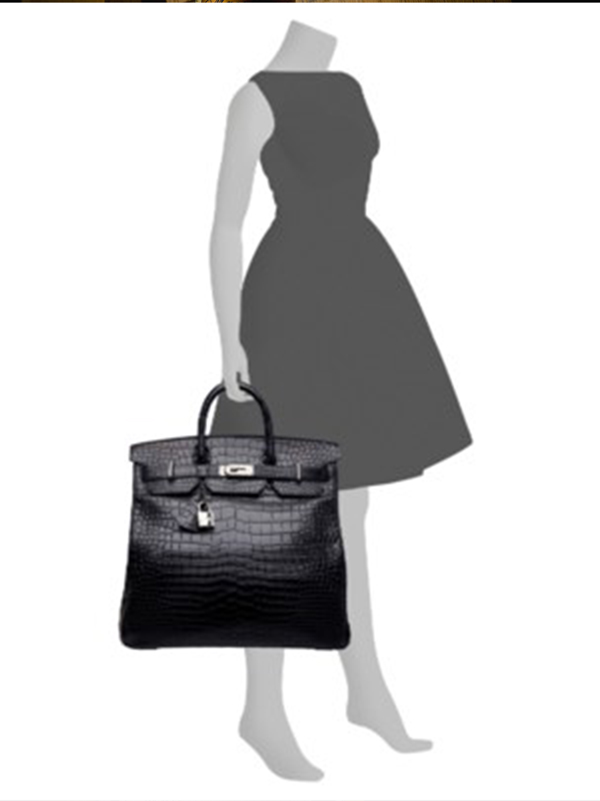 COLLECTIBLE HANDBAGS
Handbags are progressively being seen as an investment class that holds its own. The Knight Frank Index shows that the market for collectible handbags has risen in value by 108% in the last 10 years, and by 13% in 2019 alone.
During Christie's auction, tagged "Handbags Online: The Power of Colour", a black Hermès Porosus Crocodile Hac Birkin 40 nearly doubled its high pre-sale estimate of approximately US$33,545 to fetch US$61,287
Despite the fact that bags produced by luxury brands (such as Chanel and Louis Vuitton) are highly collectible, those made by Hermès attract the steepest prices at auction.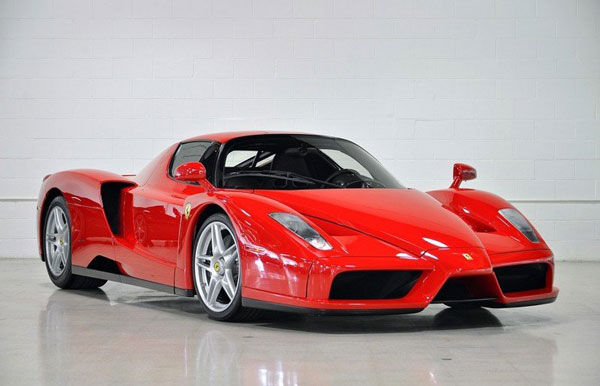 CLASSIC CARS
The Knight Frank Research also notes that collectors are turning less to classic cars to invest their assets, with the car market falling by 7% in the past 12 months (but gaining +194% over the last 10 years).
However, automobiles still continue to attract potential buyers, or how else you explain the the $2.64 million sale of a rare 2003 Ferrari Enzo during RM Sotheby's 2020 "Driving into Summer" online auction?
It shattered all records for being the highest-priced car ever auctioned in a dedicated online-only collector car auction.