Her love for cuisine started as a child raised in Nigeria, where food and family were at the heart of community living. Spending her days in awe of the magic that took place in the kitchen, she watched her mother, alongside family members, churn out meal after meal, all with a distinct Nigerian flavour. She recalls that all her favourite childhood memories were food-inspired.
Unsurprisingly, Chef Zuhra (Zuhra Abdullahi) went on to graduate from the International Culinary Center in New York, specialising in a fusion of Nigerian and French cuisine.
Zuhra is currently pursuing a Master's degree in Food Studies at New York University, but remains in circulation to offer her eclectic and whimsical fine cuisine – which proudly pushes the foods, culture, and heritage of northern Nigeria – to both private and corporate clients in the international community.
LITTLE NIGERIA IN LOWER MANHATTAN
Entrée: MASA DA TAUSHE
Rice Pancakes. Short Rib. Spinach & Pumpkin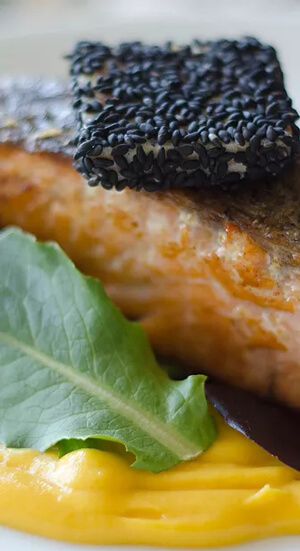 BEST OF BOTH WORLDS: FRANCE MEETS NIGERIA
Main: HERBED SALMON
Cooked sous vide in herb infused oil, African white yam & sweet potato puree, mixed greens and spicy compound butter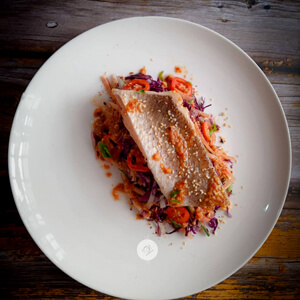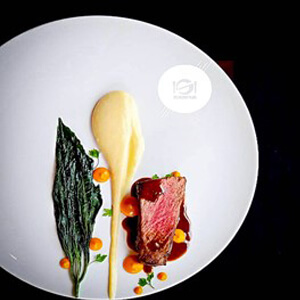 Steak. Demi glaze, potato puree, omi-obe emulsion, sautéed ugwu
Rukayat Momoh, (Chef Giggles) liked to giggle a lot, and it earned her a moniker that stuck.
This lady made a debut as a professional chef in 2014. And her culinary academy, Giggles Culinary Place, is graduating an army of avant garde chefs who fully intend to disrupt the food space.
A native of Edo state, but born and bred in Lagos, Chef Giggles is a promoter of accessible fine dining – the art of creating the most exciting, and the highest quality of food in an everyday kitchen
And the way her mind works? Hear her: "What I love the most is teaching culinary, giving value, organising successful fine dining events, and running my own food business. Owning the fastest growing culinary school in Nigeria is fulfilling. Meeting and working with living legends in the industry is great. 'Futuristically', I would like to make a huge, positive impact on the lives of food enthusiasts and the global culinary industry.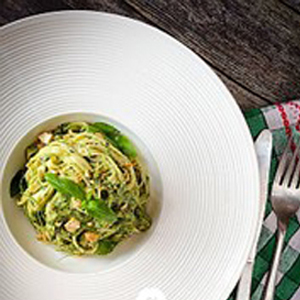 Pasta linguine, pesto, spicy Mornay cashew nuts