As individuals and families grow their investments, businesses and wealth, managing their affairs could become increasingly complex. This can be particularly challenging when they have to navigate tax and regulatory issues that may span several jurisdictions where their assets are domiciled. Therefore, in managing their wealth, High Net-Worth Individuals (HNIs) and wealthy families need to consciously think about tax optimization in order to prevent the erosion of their wealth.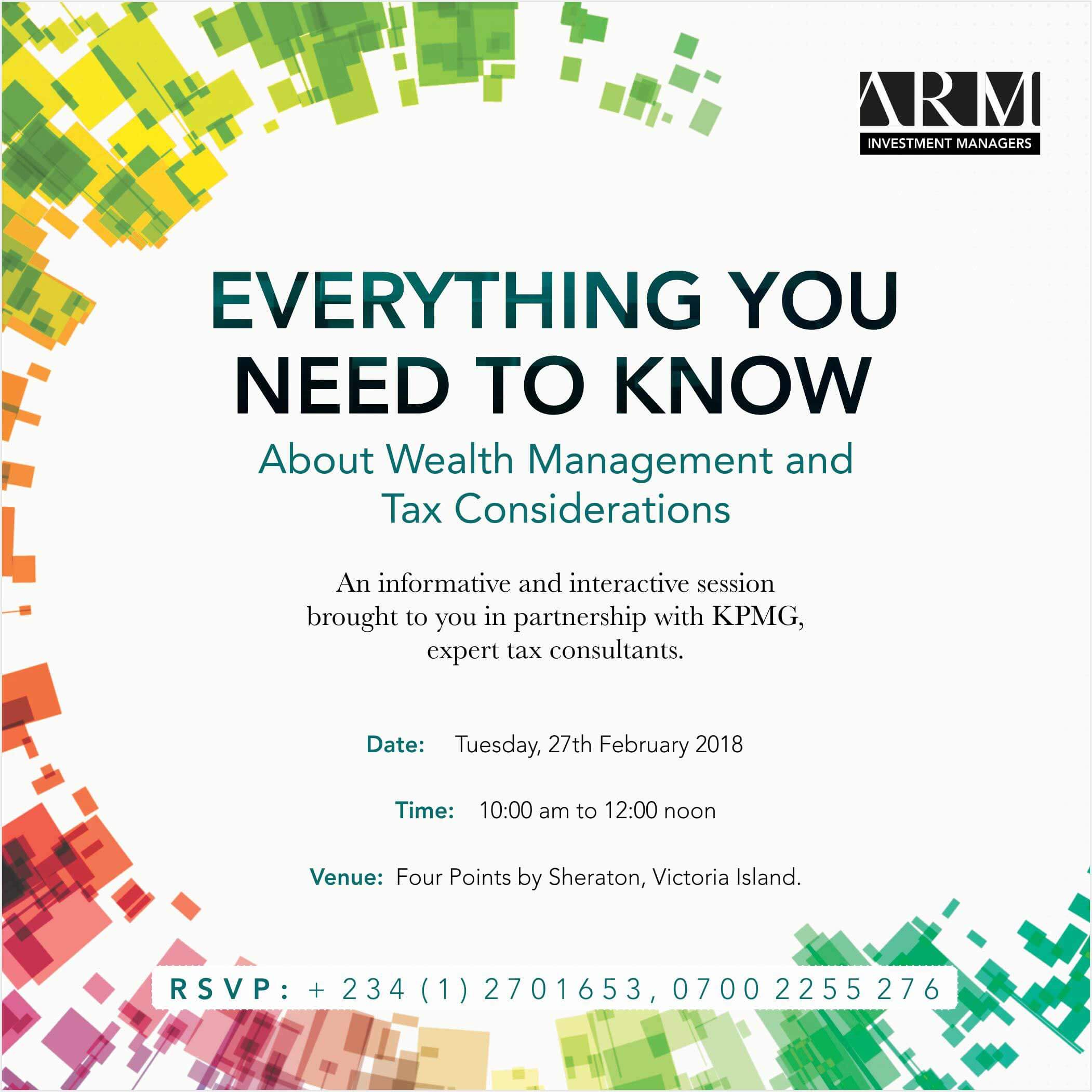 Tax Efficiency has become particularly necessary as tax compliance and enforcement by the tax authorities has intensified due to the quest by various levels of government in Nigeria to accelerate and increase revenue generation. For this purpose, the federal government has launched the Voluntary Assets and Income Declaration Scheme (VAIDS) to avail all tax payers the opportunity of regularizing their tax affairs and avoid the dire consequences of non-compliance within a limited time period. Even in other jurisdictions, there are policies that are put in place that we the local investor are not immune too thereby causing potential issues for yourselves or loved ones.
With a view to protecting the interests of its clients, the Traditional Asset Management businesses of the ARM Group is collaborating with KPMG (a tax consultancy with global renown) to facilitate a seminar that would provide attendees with greater information on the changing tax environment in Nigeria and to enlighten HNIs and wealthy families of key tax concerns (local and offshore) and tax optimization opportunities available to maximize and transfer their wealth.
The goal of the seminar is to look at wealth optimization, tax compliance and efficient wealth transfer regarding tax. We shall also delve deep into the Federal Government's initiative "VAIDS" – Voluntary Asset Declaration Scheme. Whilst we are all going to be affected by the new tax regime, the good news is that you have a chance to remedy your affairs before the deadline of 31 March 2018 and learn how to do so at this Seminar.
We invite you to participate in an informative and interactive session as we examine strategies for Wealth Management with special focus on Tax Optimisation. This forum is brought to you in partnership with KPMG, expert tax consultants.
Date: Tuesday, 27th February 2018
Time: 10:00 am to 12:00 noon
Venue: Four Points by Sheraton