Investing is the single most crucial thing you can do to secure your financial future. Yet, it means something different to everyone: it could mean funding your children's education, enhancing the life you want to live after retirement, or just setting aside funds for unexpected events.
 We will show you how to allocate your investments among various asset classes especially stocks and bonds as you approach, enter and live in retirement.
 In an often-cited study ("Determinants of Portfolio Performance," by Brinson, Hood and Beebower), the authors emphasise that asset allocation —not investment acumen or market timing—accounts for more than 90 percent of an investment's return.[1]
 Whatever your financial situation and investment goals, we can help bring your plans to life.
MARKET OVERVIEW
GLOBAL stock markets ended 2017 on record highs, gaining $9tn (£6.7tn) in value over the year. Improved global economic fundamentals drove the positive performance – Strong global trade aided by supportive fiscal and monetary policy in some key countries following years of slower growth and low inflation.
NIGERIA was one of the biggest global stock market winners of 2017: For context, The Nigerian All-Share index is still below record highs set in early 2008, though the 42% rally in 2017 has helped close the gap. The culmination of higher oil prices, stable production, and the introduction of an I&E window (which served to improve FX liquidity) supported equity market recovery during the year.
Breakdown of IEW FX inflow Monthly (April 17 – April 18)

Source: FMDQ, ARM Research *Data estimated using monthly avg. the exchange rate at the IEW*
There is cautious optimism about prospects of the Nigerian equity markets in 2018, as the stock market is susceptible to oil price shocks and panic sale ahead of the upcoming elections. However, sustained improvement in economic fundamentals is expected to keep valuations aloft. With recent positive economic data – such as an expansion in the Purchasing Managers' Index (PMI) in March 2018 – it is envisaged that improved Q1 2018 corporate earnings will drive equity market activity levels in Q2 2018. 
YIELDS – STOCKS        *high risk
2017:    Returns on stocks for 2017 ranged widely from –70% – +200%
2018:    Increased speculative actions and volatility
The FGN bond market in 2018: Yields on Nigerian Bonds maintained a downward trend from August 2017, following a move by the Debt Management Office (DMO) to increase external borrowing. The FGN is expected to reduce its borrowing in H1 2018 thereby further reducing yields on FGN securities. Analysts believe that the FGN will increase its borrowing through bonds when the 2018 budget is signed into law, to cover its budget deficit.
YIELDS – FGN BONDS     *risk free
2017:   Treasury papers were attractive for investors in 2017, yielding about 14%-23%.
2018:   The Bond market remains significantly bullish, rates are expected to drop in 2018 to circa 11%–12% on an annualised basis. 
YELDS – CORPORATE BONDS       *moderate risk
2017: Corporate bonds issued in 2017 yielded between 17%-19%.
2018: Projected yield is 14-16% on an annualised basis
See below expectations cross sectors in the equity markets and fixed income sub-asset class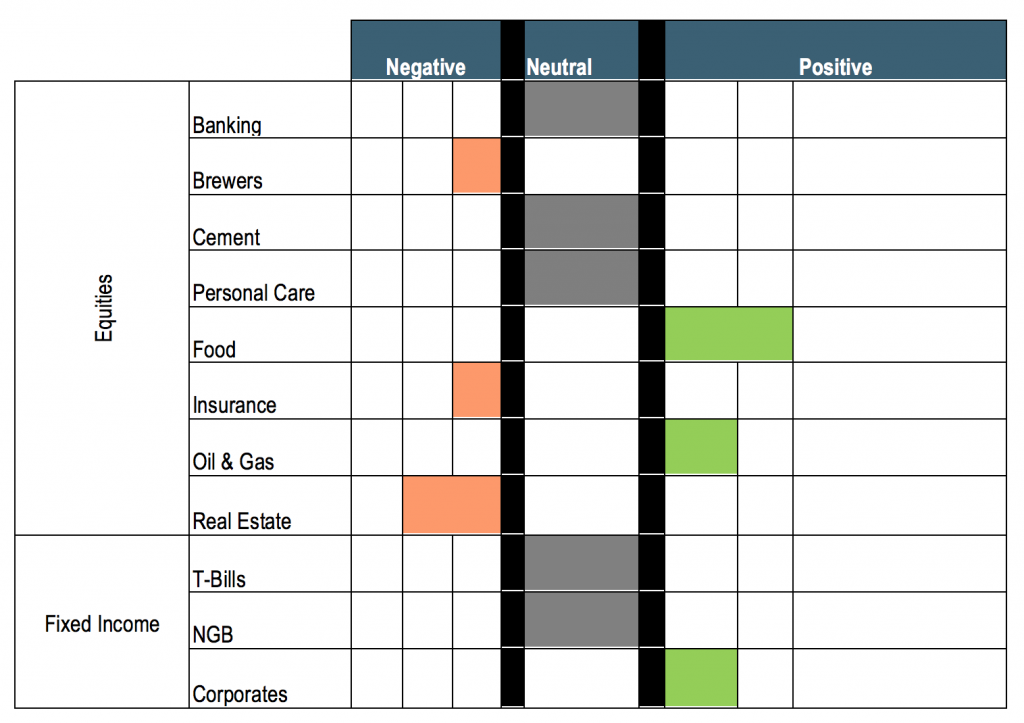 SMART WEALTH
WHY STOCKS OR BONDS?
Investing without knowing what you're trying to achieve is like trying to drive cross-country without a map or GPS. When building an investment portfolio, one of the first steps to take is to determine how much of your money you want to invest in stocks vs. bonds. The right answer depends on personal variables, including one's age, financial goals, risk tolerance, financial situation, and time frame until retirement.
Age: As a general rule of thumb, if you are investing mainly towards retirement, you should "own your age" in bonds. For example, a 30-year-old would have 30% of their portfolio in bonds, and 70% in stocks. A risk taker would hold '110 or 120 minus their age', in stocks. This means a 30-year-old would hold 80% or 90% in stocks, and then gradually switch more to bonds over the years. This rule is built on the notion that younger investors are usually able to quickly bounce back from stock market losses, and have a longer time span to try their hands again on the higher returns that equities offer.
Balance: Stocks and bonds are both used to generate portfolio income, but savvy investors recognise that stocks are on the opposite ends of the investment risk spectrum when compared to bonds. Stocks (variable yield instruments) are volatile, hold greater risk, but can offer very high returns. On the other hand, bonds (fixed income instruments) hold low risk, have a lower return, but provide important diversification and stability to investor portfolios, especially during times of financial crisis.
On the face of it, it looks like a smart move to trade in low-yielding bonds for blue-chip stocks that not only offer a higher yield, but also the potential for capital appreciation.
The logic is flawed.
The starkest example of this was the 2008–'09 global financial crisis. Between the stock market peak on October 09, 2007, and its subsequent low on March 09, 2009, the portion of investor portfolios consisting of high dividend-paying stocks lost around 50 percent of their value while the portion consisting of intermediate-term U.S. Treasuries gained almost 15 percent.
Investors with equity-heavy portfolios, including those with dividend-paying stocks, experienced extensive loss (and enormous emotional strain), while those with balanced portfolios of stocks and bonds fared much better.
Solid financial planning: While age-based considerations are helpful guides, they are no match for a careful financial plan. An investor's risk appetite really depends on whether a market loss would prevent them from meeting their basic financial needs.
The key question would be: "Are you willing to, and can you afford to accept the greater risk of a significant decline in your investments to earn a higher yield?"
For most retirees who are drawing on – rather than adding to – their portfolios, the answer is likely to be no.
Well-paid employees would naturally have more tolerance for stock-market risks, than would an entrepreneur of the same age.
An ultra-wealthy investor may be more concerned with capital preservation rather than achieving higher returns, leading them to maintain a portfolio lean in stocks and heavy on bonds.
And a late starter in their 40s and beyond may choose to take on riskier investments in order to meet his financial goals in the shortest possible time.
Speak with an ARM Financial Advisor about your financial goals and investment options.
---
This material does not provide individually tailored investment advice. It has been prepared without regard to the individual financial circumstances and objectives of persons who receive it. We advise investors to independently evaluate particular investments and strategies, and seek the advice of a Professional Private Wealth Advisor. The appropriateness of a particular investment or strategy will depend on an investor's individual circumstances and objectives.
---
*For financial or wealth management advice, please contact ARM Investment Managers: www.arminvestmentmanagers.com  | wealthadvisor@arm.com.ng |